Welcome to Katana Tattoo, your premier destination for portrait tattoos in Green Bay, Wisconsin! We're passionate about body modification and creating stunning, permanent pieces of art that tell your unique story. As experts in portrait tattoos, we'd love to share some information about the art of tattooing, its history, and how we approach our craft. The following overview will discuss the different types of portrait tattoos, care, maintenance, and cost as well as portrait tattoo design, placement, and aftercare.
A Brief History of Portrait Tattoos
At Katana Tattoo, we're proud to be a part of Green Bay's rich tattooing history. While the art of tattooing has ancient roots in indigenous cultures, portrait tattoos have gained popularity more recently, with modern tattoo artists constantly pushing the boundaries of their craft. From the earliest native tattoos to the cutting-edge portrait work our artists create today, the evolution of portrait tattoos is truly remarkable.
Types of Portrait Tattoos
As a tattoo shop specializing in portrait tattoos, we offer various styles for our clients. Some people opt for realistic portraits, capturing the essence of a loved one or a favorite celebrity. Others prefer a stylized or abstract approach, incorporating their unique vision and the artist's creativity. No matter the style, our talented artists will work closely with you to design the perfect portrait piece.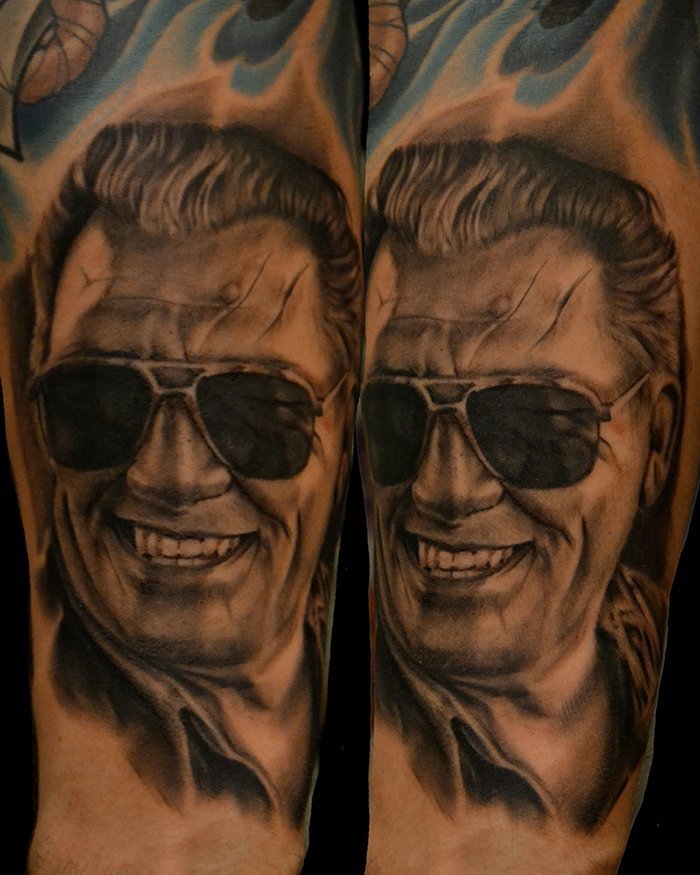 If you are considering a portrait tattoo done, the artist's portfolio will tell a lot if he is the right person to perform the ink. With portrait tattoos, one needs to be extra careful or more serious on choosing the artist for the job. One small mistake, and the portrait fails. The thing with this kind of tattoo is any mistake on the likeness of the person is really noticeable. With a different tattoo say a bird, if a feather seems out of hand, the tattoo can still work. With portrait tattoos there is a line you cannot cross. There are no "just ok" portraits; each portrait tattoo should be spot on or nothing at all.
Portrait Tattoo Pricing
Pricing for portrait tattoos in Green Bay varies based on factors such as the artist's experience, the size and complexity of the design, and the shop's location. At Katana Tattoo, we strive to provide competitive pricing while maintaining the highest quality work. Additional costs, such as aftercare products, may apply. Our friendly staff will discuss pricing with you during the consultation process.
Teaming Up With Our Tattoo Artist
A portrait tattoo starts with a meaningful idea or image for the person looking to receive a tattoo. Our artists grasp the importance of these permanent artistic expressions and dedicate themselves to assisting clients in actualizing their visions. From the moment you enter our tattoo shop, our team stands ready to offer essential information and direction, ensuring a memorable tattoo experience.
Throughout your consultation, our tattoo artist will talk about the specific portrait tattoo you seek, whether it's black and white or filled with color. We'll integrate your concepts, reference materials, and the portrait's subject to create a one-of-a-kind design that truly reflects your individuality. Katana Tattoo's artists are highly skilled in needle techniques, allowing them to materialize even the most intricate and elaborate designs.
Portrait Tattoo Placement
Choosing the right placement for your portrait tattoo is crucial. Our experienced artists will help you consider factors such as visibility, size, and pain tolerance when selecting the perfect spot. Popular placement options include arms, legs, shoulders, chest, and back.
Portrait Tattoo Care and Maintenance
Taking care of your ink is crucial to ensuring the longevity and vibrancy of your portrait tattoo. Our artists will provide detailed instructions on immediate aftercare, such as cleaning and moisturizing, and how to protect your tattoo from the sun and other damaging elements. With proper care and occasional touch-ups, your portrait tattoo will remain a beautiful piece of body art for years to come.
The Benefits of Choosing an Expert Artist for Your Portrait Tattoo
The intricate and lifelike nature of portrait tattoos requires an artist with a particular skill set in this art form. The artists at Katana Tattoo have the talent necessary to create remarkable portrait tattoos, ensuring your permanent piece genuinely captures your vision. People often opt for a specialist for portrait tattoos due to the following reasons:
Technical expertise:

Our artists are well-versed in the shading, line work, and color blending techniques required for portrait tattoos, delivering outstanding results for every client.

Experience:

A tattoo artist concentrating on portrait tattoos will have completed a multitude of similar projects, refining their abilities and acquiring invaluable experience. This results in higher-quality tattoos and a more enjoyable experience for the client.

Personalized attention:

Collaborating with a specialist guarantees you receive tailored attention. At Katana Tattoo, our artists devote time to comprehend your vision, preferences, and unique background, ensuring your portrait tattoo is an accurate reflection of you.
Expert Portrait Tattooing and Outstanding Customer Support
At Katana Tattoo in Green Bay, WI, we pride ourselves on our expertise in portrait tattoos and our commitment to providing exceptional customer experiences. From the rich history of portrait tattoos to design and aftercare, we strive to be your go-to source for all things related to portrait tattoos. Whether you're a tattoo enthusiast or considering your first piece of ink, our talented artists and friendly staff are here to help you bring your vision to life. Give us a call or stop by our shop today to start your portrait tattoo journey.
About Green Bay, WI
Green Bay is the third-largest city in Wisconsin and the seat of Brown County. This historic community, nestled along the shores of the Fox River and the Green Bay, has evolved over the years to become a vibrant hub that boasts a rich cultural heritage and a variety of recreational opportunities for its residents and visitors alike.
Outdoor enthusiasts can enjoy the city's numerous parks, trails, and waterfront areas, which offer a wide range of activities, such as hiking, biking, boating, and fishing. Green Bay is also known for its lively arts scene, with several theaters, galleries, and museums that showcase local and regional talent. Foodies can explore diverse culinary delights at a multitude of restaurants and cafes scattered throughout the city. The bustling downtown area is home to numerous shops, boutiques, and entertainment venues, making it a popular destination for both locals and tourists.
Green Bay maintains a strong sense of community, with various events and festivals taking place throughout the year. These events celebrate the city's rich history, local culture, and seasonal attractions, bringing people together to enjoy live music, food, and entertainment. The city also boasts excellent educational institutions and a robust economy, with a mix of traditional industries and emerging sectors contributing to its growth and development. With its perfect blend of natural beauty, cultural offerings, and urban amenities, Green Bay, WI, is a thriving community that has something for everyone.
Areas We Offer Portrait Tattoo Services: 
Directions from Green Bay to Katana Tattoo
Green Bay, WI Zip Codes
54229, 54301, 54302, 54303, 54304, 54305, 54306, 54308, 54311, 54313