Welcome to Katana Tattoo, a destination tattoo shop serving the upper midwest from it's location in Green Bay, WI all the way to Chicago and all points in between, that is skilled and dedicated to the art of large scale Japanese, American, and Traditional style body pieces.
Meet the Artists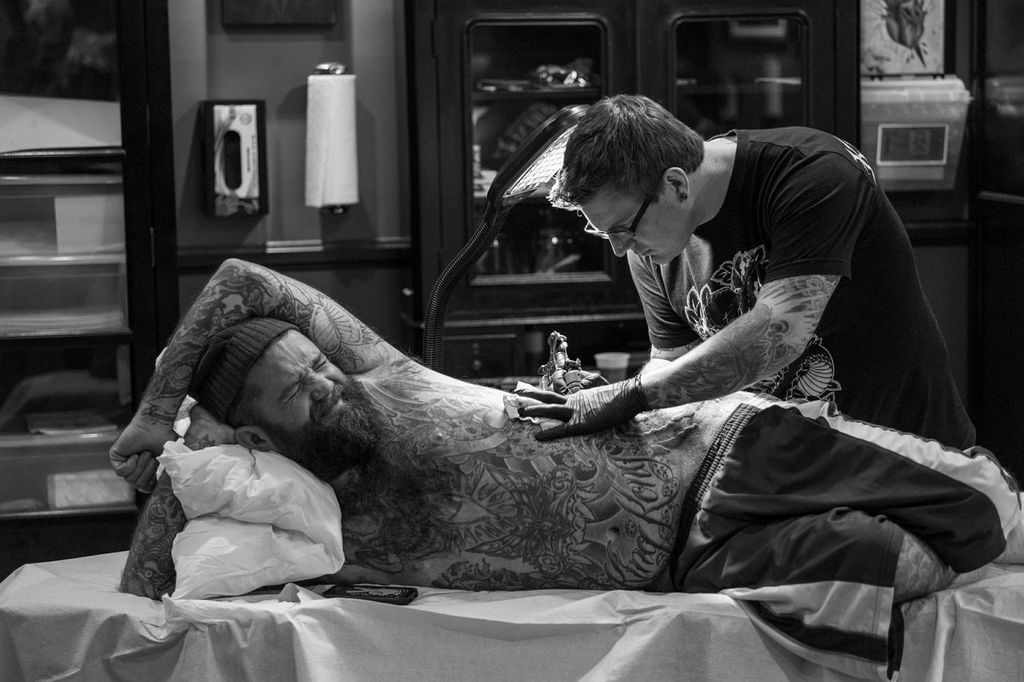 Paul Dhuey
Katana Tattoo, a tattoo studio skilled in providing excellent tattoo work with a focus on large pieces, was conceived, developed and opened in Green Bay, Wisconsin in October 2012. The shops founder and proprietor, Paul Dhuey, is a Green Bay native who has extensive experience tattooing across the United States and Europe.
For the last nine years Paul has spent the majority of his professional career in San Diego, tattooing at one of California's premier shops, GURU TATTOO as well as currently tattooing at Left Hand Black Tattoo and Gallery.
He has won many awards at various tattoo conventions across the country and has been featured in numerous tattoo magazines worldwide!
With the opening of Katana Tattoo, Paul is bringing over 21 years of worldwide experience to the Midwest!
His dedication, expertise, and specialty in creating large Japanese and American-style tattoos are unprecedented.
Katana Tattoo is a studio dedicated to focusing on clients' wishes/ideas/goals while providing each client with all the information, education, and long-term tattooing options available to them (i.e. large pieces, full/partial body suits, full sleeves/legs, half sleeves/legs…etc.).
This approach ensures that each client makes decisions that they feel comfortable and confident with. This includes engaging clients in discussions on the best tattoo placement based on their body and future tattoo planning options for large pieces…etc.
Katana Tattoo remains committed and true to the Medium by continuously focusing on the overall flow, layout, and placement of the design(s) to remain true to the client's body shape while giving them timeless tattoos that can be enjoyed for a lifetime!
Staff at Katana Tattoo are dedicated to sharing their knowledge, expertise, and skill with anyone interested in acquiring beautiful, individualized pieces of art for their body. This is accomplished by having all consultations and tattoos by appointment only to ensure every client gets the undivided attention they deserve.
Interested in scheduling or learning more?
Contact Katana Tattoo
Email: pdhuey@yahoo.com
Shop:  (920) 770 – 2377
We look forward to hearing from you!
Tanner Lillie
Tanner Lillie comes to Katana Tattoo with five years of professional tattooing experience. He is a dedicated tattoo artist from the Upper Peninsula of Michigan. Tanner is well-rounded offering multiple styles of tattoos, specializing in realism tattoos as well as black and grey tattoos. Tanner respects the tradition of tattooing and is committed to expanding his knowledge in the core styles of tattooing including American traditional and Japanese tattooing.
Contact Tanner at:  lillietanner8@gmail.com
Shop:  (920) 770 – 2377
Make an Appointment
 We're always honored when people travel across the state or the country to visit and have us work on them.