Welcome to Katana Tattoo, your go-to tattoo studio near Suamico, Wisconsin! As a premier tattoo shop, we specialize in portrait tattoos, and we love to share our passion for ink and art with our clients. The details presented below will explore the world of portrait tattoos and dive into the history, popular styles, care, and more.
History of Portrait Tattoos
As tattoo artists near Suamico, we're proud to be part of the rich history of tattoos in Wisconsin. The ancient Native American tribes in the area were some of the first to practice body modification, creating intricate designs with a needle and ink. European settlers introduced portrait tattoos to the region, adding new styles and techniques to the existing tattooing culture.
In the 20th century, portrait tattoos became increasingly popular, influenced by celebrities and the growing acceptance of body art as a form of personal expression. Today, modern tattoo shops, like Katana Tattoo, are proud to carry on this tradition, offering a wide range of portrait tattoo styles to our clients.
Styles of Portrait Tattoos
At our tattoo shop, we know that each person's vision for their portrait tattoos is unique. We offer various styles, including realistic portraits that resemble photographs, stylized portraits with artistic twists, and abstract portraits that convey more interpretive or symbolic meanings. Memorial portraits, honoring loved ones who have passed, are also popular choices for body art. Additionally, many people choose to get tattoos of their favorite celebrities or historical figures to pay homage to their heroes.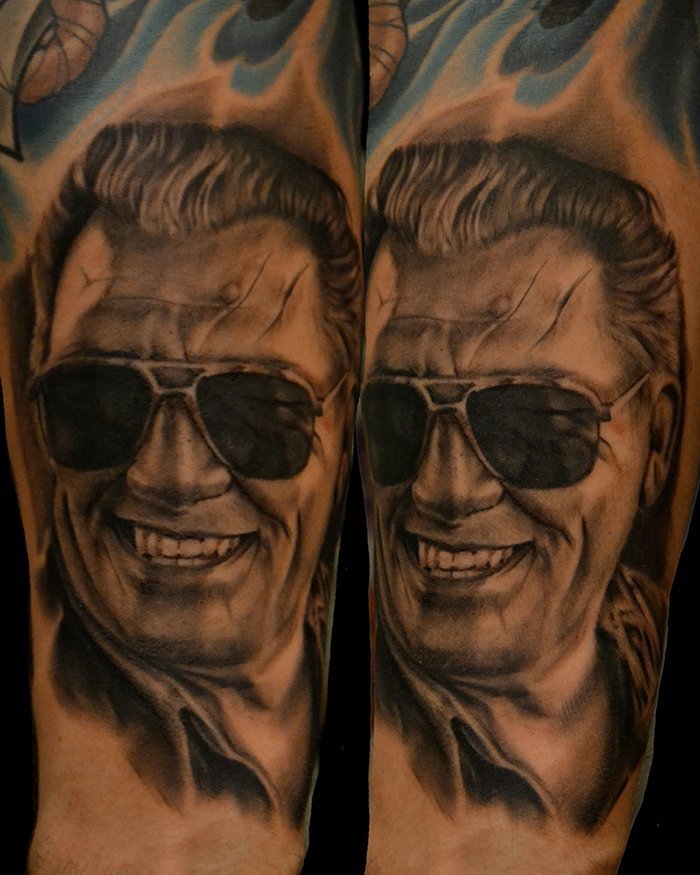 How Much Does a Portrait Tattoo Cost?
We believe that your body is a canvas, and we want to help you create the perfect piece of art. The cost of portrait tattoos can vary based on factors like the artist's experience, tattoo size, complexity, and location. We're committed to providing a transparent pricing structure and ensuring that each client gets the highest quality work for their investment.
Designing Your Portrait Tattoo
Every portrait tattoo at Katana Tattoo is rooted in an idea or image that holds great importance to the person seeking a tattoo. Our tattoo artists grasp the essence of these permanent artistic creations and commit themselves to helping clients bring their ideas to life. The moment you set foot in our tattoo studio or schedule a phone consultation, our team is ready to provide essential information and guidance, making your tattoo journey a memorable one.
At your appointment, our tattoo artist will inquire about your preferred portrait tattoo style, whether black and white or brimming with color. We'll evaluate your ideas, reference materials, and the subject of the portrait to craft a tailor-made design that genuinely represents you. Our tattoo artists are proficient at handling the needle, making it possible to execute the most intricate and detailed designs.
Portrait Tattoo Placement
Choosing the right placement for your portrait tattoo is an essential part of the process. Our experienced tattoo artists will help you consider factors like visibility, personal preferences, size and shape of the tattoo, and pain tolerance. Popular placement options include the shoulders, arms, legs, chest, and back.
Portrait Tattoo Care and Maintenance
As tattoo artists, we know that proper care is crucial to maintaining the quality and appearance of your portrait tattoo. Our staff at Katana Tattoo will guide you through the entire process, from immediate aftercare to long-term maintenance. We understand the importance of keeping your tattoos clean and moisturized, protecting them from sun damage, and scheduling touch-ups when needed.
The Importance of Working With an Experienced Artist
Portrait tattoos demand a high level of expertise and attention to detail in order to accurately depict a person or image. Therefore, it is crucial to select an artist who specializes in this art form. The artists at Katana Tattoo have the necessary skills to produce striking portrait tattoos, guaranteeing your permanent piece will reflect your vision. People often opt for a specialist for portrait tattoos for the following reasons:
Technical expertise: Our artists have refined their abilities in shading, line work, and color blending techniques, which are essential for portrait tattoos, consistently delivering exceptional results for clients.
Experience: A tattoo artist focusing on portrait tattoos will have executed countless similar projects, enhancing their skills and accumulating valuable expertise. This leads to higher quality tattoos and a more satisfying experience for the client.
Personalized service: Working with a specialist guarantees you receive tailored attention. Our artists take the time to grasp your vision, preferences, and personal story, making sure your portrait tattoo is a perfect reflection of your unique identity.
High-Quality Portrait Tattoos and Unbeatable Customer Care
At Katana Tattoo, we're passionate about helping our clients express themselves through the art of portrait tattoos. Our talented tattoo artists, friendly staff, and comfortable environment make us the go-to tattoo studio near Suamico, WI. Whether you're a seasoned collector or new to the world of body modification, we'll work with you every step of the way to ensure your vision comes to life. Give us a call or stop by our tattoo shop in Green Bay to discuss your ideas and schedule an appointment – we can't wait to create something incredible together!
About Suamico, Wisconsin
Situated in Brown County, Suamico, Wisconsin, is a picturesque village known for its scenic beauty and vibrant community life. With a rich cultural heritage and an emphasis on preserving its natural surroundings, Suamico offers a delightful blend of outdoor activities, local events, and unique attractions that cater to both visitors and residents.
Suamico is home to a variety of attractions that highlight the region's natural beauty and commitment to conservation. The Barkhausen Waterfowl Preserve, a popular destination for nature lovers, boasts hiking trails, wetlands, and a diverse range of wildlife. Suamico also hosts numerous events and festivals throughout the year, celebrating the community's rich cultural traditions and fostering a strong sense of togetherness. From farm-to-table dining experiences to local shops offering unique finds, Suamico's lively atmosphere and charming attractions create a welcoming environment for all who visit or call this village home.
Areas We Offer Portrait Tattoo Services: 
Directions from Suamico to Katana Tattoo

Suamico, WI Zip Codes
54171, 54173, 54313