Katana Tattoo, near Howard, WI, is the top choice for exceptional portrait tattoos! Our team of devoted tattoo artists is committed to turning your body into a living gallery that showcases your one-of-a-kind story. As portrait tattoo specialists, we're thrilled to share our insights on the art of tattooing, its captivating history, and our unique approach to the craft. The following information will delve into the various aspects of portrait tattoos, including styles, care and maintenance, pricing, designs, placement, and aftercare. Join us as we uncover the mesmerizing world of portrait tattoos.
A Brief Overview of Portrait Tattoos
We take pride in being part of the multifaceted history of tattooing. Although tattooing has its roots in ancient native cultures, portrait tattoos have only recently gained popularity. Contemporary tattoo artists are continually pushing the limits of their expertise. From the earliest indigenous tattoos to the state-of-the-art portrait work our artists produce today, the advancement of portrait tattoos is truly inspiring.
Exploring the Various Types of Portrait Tattoos
Our tattoo studio, which specializes in portrait tattoos, offers a broad selection of styles to suit our clients' preferences. Some individuals opt for lifelike portraits, capturing the true essence of a loved one or a favorite celebrity with remarkable accuracy. Others gravitate toward a more stylized or abstract approach, combining their distinct vision with the artist's ingenuity. Whatever your preferred style, our skilled artists at Katana Tattoo will collaborate closely with you to create the perfect portrait piece.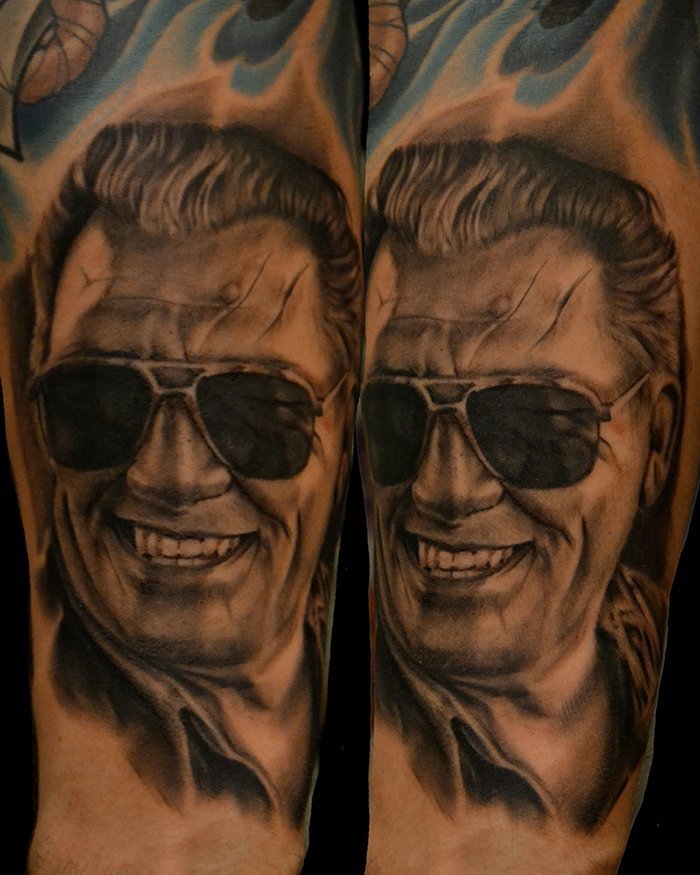 Understanding Portrait Tattoo Pricing
Portrait tattoo pricing near Howard varies depending on factors like the artist's experience, the design's size and complexity, and the studio's location. Furthermore, there may be additional costs for aftercare products. Our goal is to offer competitive pricing while upholding the highest quality work. Our approachable staff will address pricing concerns during the consultation process to ensure transparency and satisfaction.
Establishing a Partnership With Our Tattoo Artist
Our portrait tattoos originate from a deeply significant idea or image for the person wishing to receive a portrait tattoo. Our tattoo artists comprehend the meaning and importance of these perpetual art pieces and are devoted to helping clients achieve their envisioned designs. Upon entering our tattoo shop, our team is prepared to dispense valuable advice and guidance, guaranteeing an unforgettable tattoo experience.
During your consultation, our tattoo artist will discuss the nature of the portrait tattoo you desire, whether it's rich with color or black and white. They will assess your ideas, reference materials, and the portrait subject to generate a custom design that truly embodies your individuality. Every artist at Katana Tattoo is skilled in needle handling, making even the most detailed and intricate designs possible.
Choosing the Ideal Portrait Tattoo Placement
Selecting the perfect placement for your portrait tattoo is of utmost importance. Popular placement options for portrait tattoos include arms, legs, shoulders, chest, and back. Our seasoned artists will assist you in considering factors such as visibility, size, and pain tolerance when determining the ideal spot. We'll collaborate with you to find the best location that enhances both the design and your body.
Caring for Your Portrait Tattoo
Proper care is crucial for preserving the longevity and vibrancy of your portrait tattoo. Our artists will supply detailed instructions on immediate aftercare, such as cleaning and moisturizing your new tattoo. Additionally, we'll discuss long-term care strategies, like safeguarding your tattoo from the sun and other harmful elements. With attentive care and periodic touch-ups, your portrait tattoo will remain a breathtaking piece of body art for many years.
Why an Experienced Artist is Essential for Your Portrait Tattoo
The detailed nature and realistic elements of portrait tattoos make it crucial to choose an artist with expertise in this specific style. Our artists possess the skills needed to craft breathtaking portrait tattoos, guaranteeing your permanent piece captures your vision. People often prefer a specialist for portrait tattoos for the following reasons:
Technical expertise: Our tattoo artists have developed a deep understanding of shading, line work, and color blending required for portrait tattoos, consistently providing exceptional results for clients.
Valuable experience: An artist specializing in portrait tattoos will have worked on countless similar projects, refining their skills and gaining important experience. This leads to superior tattoo quality and enhanced client satisfaction.
Personalized attention: Engaging with a specialist ensures you receive customized care. Our artists dedicate time to fully understanding your vision, preferences, and personal story, making certain your portrait tattoo genuinely embodies your unique character.
Beautiful Portrait Tattoos and Extraordinary Client Service
At Katana Tattoo near Howard, Wisconsin, we take pride in our expertise in portrait tattoos and our dedication to delivering exceptional customer experiences. From the rich history of portrait tattoos to concept and experience, we strive to be your go-to source for all things related to portrait tattoos. Whether you're a tattoo enthusiast or considering your first piece of ink, our talented artists and experienced staff are here to help you bring your vision to life. Give us a call or stop by our tattoo shop in Green Bay today to embark on your portrait tattoo journey.
About Howard, Wisconsin
Located northwest of Green Bay, Howard is a thriving suburban community that offers a perfect blend of small-town charm and modern amenities. As part of both Brown and Outagamie counties in Wisconsin, this idyllic village is known for its friendly atmosphere, lush landscapes, and a variety of local attractions that cater to residents and visitors alike.
One of the standout features of Howard is its rich culture and appreciation for the arts. The local community center frequently hosts events, such as concerts and art exhibitions, which showcase the talents of both local and visiting artists. Outdoor enthusiasts will find a variety of recreational opportunities at nearby parks, including the picturesque Duck Creek Trail, perfect for hiking, biking, and bird-watching. Additionally, Howard offers a vibrant culinary scene with numerous locally-owned restaurants and cafes that highlight the community's unique flavors and dishes.
Areas We Offer Portrait Tattoo Services: 
Directions from Howard to Katana Tattoo

Howard, WI  Zip Codes
54303, 54313