Katana Tattoo is the top choice for portrait tattoos near De Pere, Wisconsin! We're devoted to the art of body modification, crafting permanent, breathtaking artwork that captures your individual story. As portrait tattoo specialists, we're eager to share our knowledge of tattooing, its history, and our approach to the craft. Join us as we delve into the various styles of portrait tattoos, pricing, designs, and placement as well as the aftercare and maintenance of your new portrait tattoo.
The Evolution of Portrait Tattoos
Katana Tattoo is honored to contribute to the rich history of tattooing. While tattooing has ancient origins in native cultures, portrait tattoos have become increasingly popular in more recent times. Tattoo artists in the De Pere area and beyond are continually expanding their expertise, taking the art of portrait tattoos to new heights. From early indigenous tattoo practices to the state-of-the-art portrait tattoos our artists create today, the progression of portrait tattoos is genuinely inspiring.
Diverse Portrait Tattoo Styles
At our tattoo shop, where we specialize in portrait tattoos, we cater to a variety of client preferences. Some individuals choose realistic portraits that encapsulate the spirit of a loved one or a beloved celebrity, while others opt for stylized or abstract versions that merge their vision with the artist's creativity. Regardless of the chosen style, our skilled artists will collaborate with you to design the ideal portrait piece.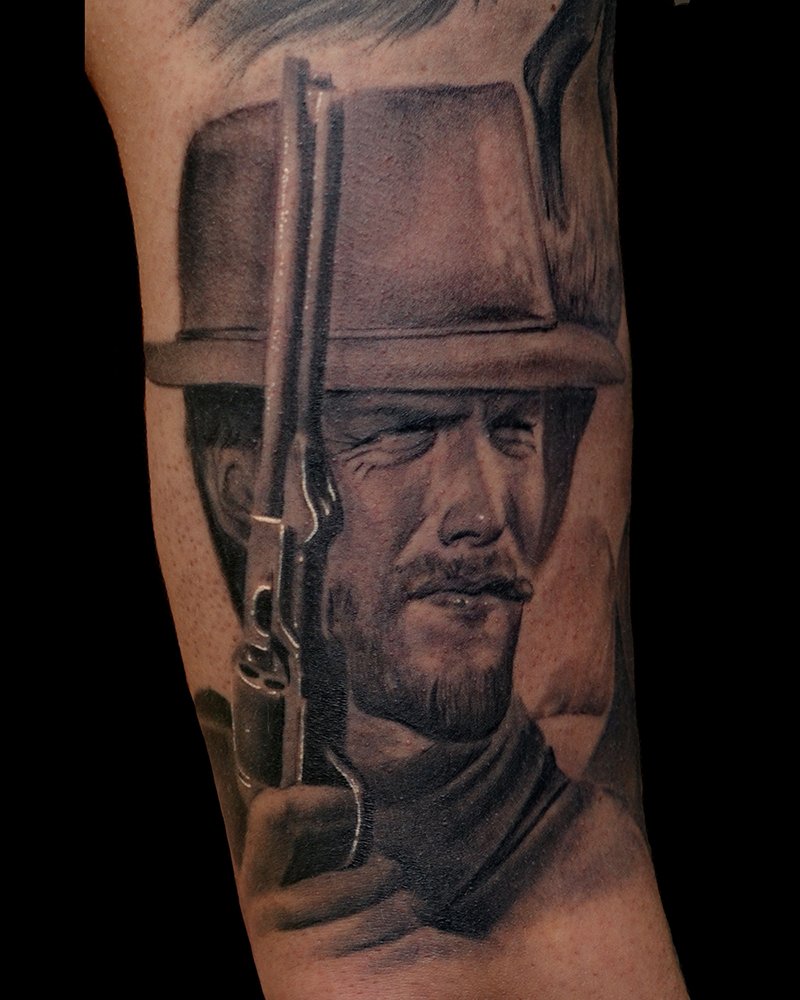 Pricing for Portrait Tattoos
Costs for portrait tattoos near De Pere, WI, can vary depending on factors such as the artist's experience, the design's size and complexity, and the location of the shop. At Katana Tattoo, we aim to offer competitive pricing while upholding the highest quality standards. Additional expenses, like aftercare products, may be applicable. Our knowledgeable staff will discuss pricing with you during the consultation process.
Partnering With Our Tattoo Artist
Every portrait tattoo journey at Katana Tattoo is initiated with a profound idea or image that carries great significance to the individual who wishes to be tattooed. Our artists appreciate the value of these eternal works of art and pledge their commitment to help clients manifest their creative visions. Whether you visit our studio in person or speak to us on the phone, our team is equipped to share useful insights and guidance, making your tattooing experience truly special.
During your scheduled meeting, our tattoo artist will explore the type of portrait tattoo you envision, whether you desire black and white or a piece infused with vivid colors. We'll take your ideas, reference materials, and the portrait subject into consideration to produce a custom design that truly embodies you. Every artist at Katana Tattoo is skilled with a needle, enabling us to bring even the most sophisticated and elaborate designs to life.
Selecting the Perfect Placement
Finding the ideal placement for your portrait tattoo is crucial. Popular placement options include the back, chest, shoulders, arms, and legs. Our seasoned artists will assist you in considering factors such as visibility, size, and pain tolerance when determining the best location.
Care and Maintenance of Your Portrait Tattoo
Maintaining your portrait tattoo is essential to preserving its longevity and vibrancy. Our artists will guide you through the aftercare process, including cleaning and moisturizing your tattoo and protecting it from sun exposure and other harmful elements. With attentive care and occasional touch-ups, your portrait tattoo will remain an exquisite work of body art for many years.
The Value of Expertise in Portrait Tattoo Artistry
The complexities and realism in portrait tattoos require an artist with a specialization in this particular style. The artists at Katana Tattoo are experts at creating extraordinary portrait tattoos, ensuring your permanent artwork aligns with your vision. People choose a specialist for portrait tattoos for various reasons:
Technical expertise: Our artists have refined their skills in shading, line work, and color blending, which are essential for portrait tattoos, consistently delivering excellent results for clients.
Experience: A tattoo artist with a focus on portrait tattoos will have completed numerous similar projects, developing their abilities and acquiring valuable skills. This expertise results in improved tattoo quality and a better experience for the client.
Personalized attention: Partnering with a specialist means receiving personalized attention. Our artists strive to grasp your vision, preferences, and personal background, ensuring your portrait tattoo truly reflects your individuality.
Exceptional Portrait Tattoo Artistry With Unparalleled Client Care
At Katana Tattoo near De Pere, Wisconsin, we take pride in our expertise in portrait tattoos and our dedication to delivering exceptional customer experiences. From the fascinating history of portrait tattoos to aftercare and everything in between, we strive to be your go-to source for all aspects related to portrait tattoos. Whether you're a seasoned tattoo enthusiast or considering your first piece of ink, our talented artists and welcoming staff are here to help you transform your vision into a reality. We invite you to visit our tattoo shop in Green Bay or contact us today to embark on your portrait tattoo journey.
About De Pere, WI
De Pere, a charming city located in Brown County, Wisconsin, is known for its rich culture and local attractions. Nestled along the banks of the Fox River, De Pere offers residents and visitors a unique blend of small-town charm and modern amenities. With a strong sense of community and a deep appreciation for its history, De Pere is a true gem in the heart of Wisconsin.
The city boasts a vibrant arts and culture scene, with an array of galleries, theaters, and events throughout the year. One of De Pere's most notable attractions is the historic De Pere Lock and Dam, a significant landmark within the Fox River Navigational System. The city is also home to St. Norbert College, a highly regarded institution with beautiful campus grounds that host various events and performances. Outdoor enthusiasts will appreciate the picturesque parks and scenic trails, perfect for biking, hiking, and enjoying nature's beauty. With its unique blend of history, culture, and natural beauty, De Pere, Wisconsin, offers something for everyone to enjoy.
Areas We Offer Portrait Tattoo Services: 
Directions from De Pere to Katana Tattoo

De Pere, WI Zip Codes
54115, 54344