The Inherent Beauty of Black and Grey Tattoos
When you think of tattoos normally you conjure up thoughts of beautiful imagery, peppered with rich colors and textures that paint a beautiful canvas on skin. However, there is a style of tattooing that is considered classic, understated, yet trendy at the same time. Black and grey tattoos have been around since the early 1870s in the Victorian era, found its way into penitentiaries as a way for prisoners to align themselves with certain groups and have morphed into a beautiful and striking means of expression in the 1970s up to present. They are a striking yet understated means of body art, expressed methodically and beautifully by tattoo artists all over the world.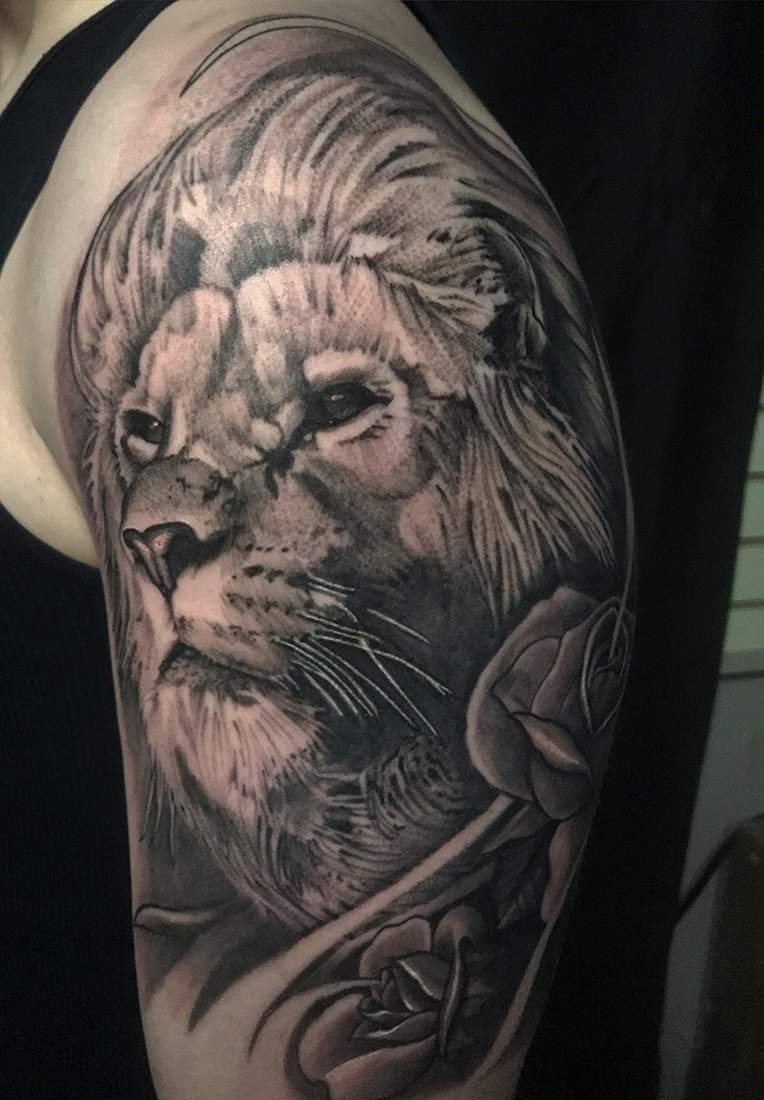 Black & Grey Tattoo Artist
A black & grey tattoo artist is a special breed of artist that have superb attention to detail and are masters of creating contrast and details from the most difficult colors to use: black & grey.  These two colors do not give the artist a lot of flexibility and therefore he must rely on the skills and experience that have been accrued over the years in order to make stunning works of art on skin. When it comes to making black and grey portrait tattoos there are simply no ok portraits. It is either excellent or it is not. Therefore, the artist makes it a point to come out with a real and detailed depiction of the picture each and every time to the complete satisfaction of the client.
Black and Grey Tattoos
Black & Grey tattooing is considered to be one of the most recognizable styles of tattooing in the industry. It is simply not limited to one simple style but a gamut of variations ranging from realism, black & grey portrait tattoos and even Japanese Irezumi to name a few.  While the actual execution may vary depending on the preference of the black & grey tattoo artist, it normally uses a single needle and black ink, achieving multiple shades of grey via a process called a "wash." Through this approach, the tattoo artist is able to create different shades of grey that can provide different levels of texture and depth, which can result in dazzling 3-D and intricate works of art. Transitions from dark to light create a sense of depth and dimension, similar to how a black and white photograph would look like. This is what a black & grey tattoo endears to be.
In a lot of cases, black & grey tattoos can be done much faster compared to colored ones. In scenarios where you are paying the artist by the hour, this tattoo is more affordable compared to full color pieces. However, by all means it does not mean they are second rate or of lower quality. It also does not mean that they are done quickly. It just means that they get finished much faster compared to a similar piece using similar levels of color and detail.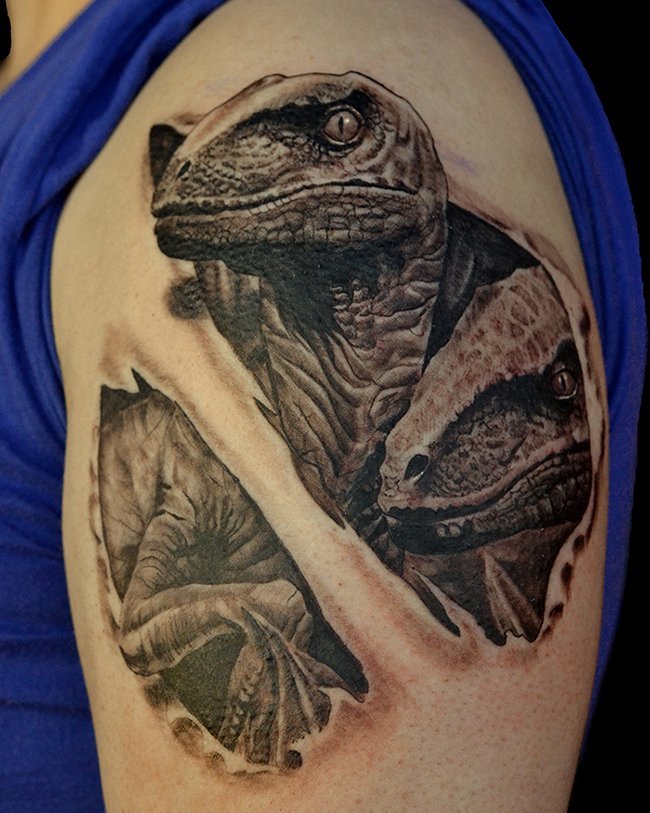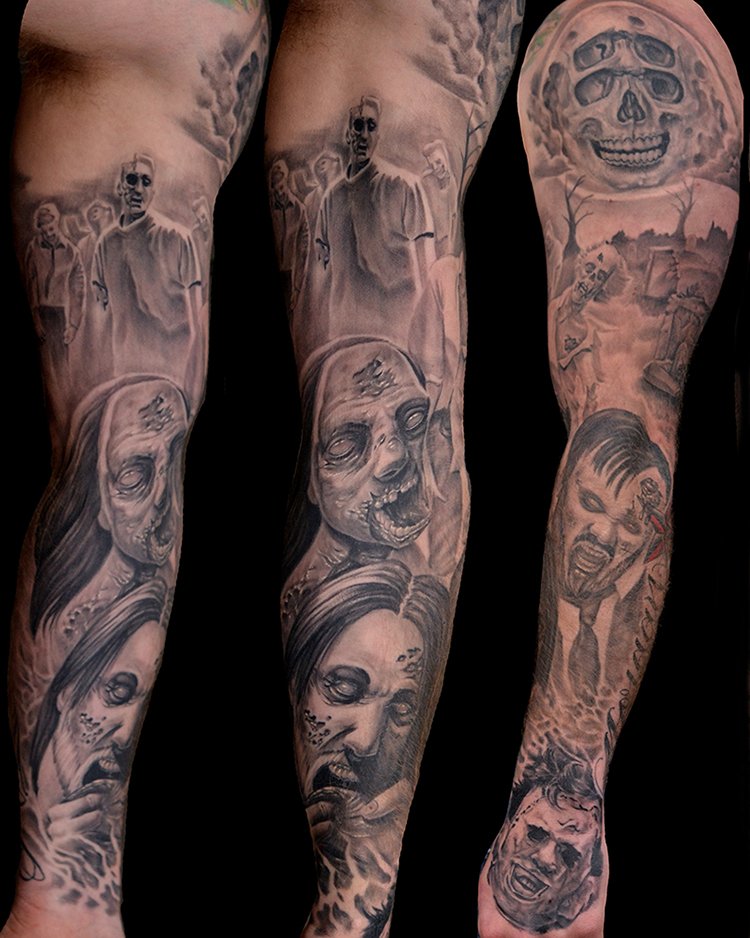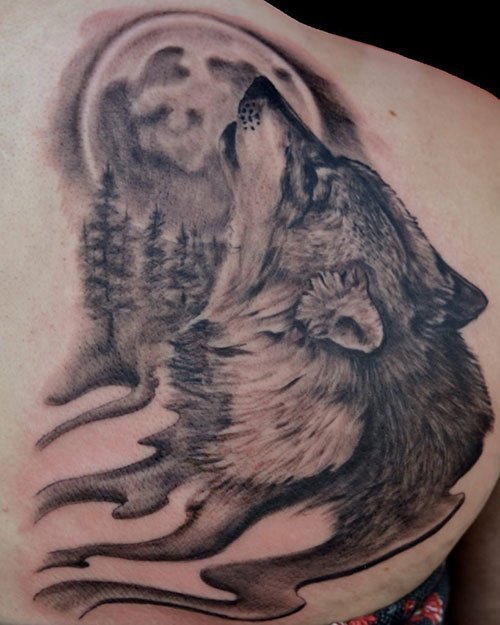 Making Black and Grey Tattoos – The Process
Black ink as many of you might know is quite standard in the tattoo industry. However, grey shades require a little more flair. Some tattoo artists simply dilute black ink with water in order for them to get the right shade of grey they want while others use both grey and black ink together. There are some situations where artists attempt to maximize contrast in order to let some details pop, a little bit of white ink is used in order to establish the intended effect.
Greys that are made from diluting black ink will fade faster compared to grey ink. The catch is, grey ink requires a lot more skill to use and does not always allow the tattoo artist greater flexibility.
Types of Black & Grey Tattoos
Arm Tattoos
These can be arm sleeves or half sleeves and are known to be some of the best types of black & grey tattoos. They are perfect as second skin and can match almost any kind of lifestyle.  They are perfect for showing off in a t-shirt or tank top or you can easily cover them if you need to wear formal business attire. Due to the length and shape of your arms, you can use these tattoos to tell a story via a sequence of tattoos.
Chest Tattoos
The chest is one of the best canvases to place a black & grey tattoo. Since it has a flat prominent surface, the tattoo artist has immense freedom to draw a design with as much or as little detail as you prefer.  This area is the ideal surface for symmetrical or parallel designs. They can extend from the shoulders up to the upper torso and looks great when you go shirtless.
Back Tattoos
Since the back is considered to be the broadest flat surface of your body, it gives you the freedom to create large and intricately detailed black & grey tattoos. Due to the large amount of canvas available, you can add additional tattoos over time.
Black & Grey Portrait Tattoos
There is no better homage to a loved one, a relative or spouse that has passed on or tribute to a fallen hero than black & grey portrait tattoos. These tattoos are one of the most difficult and challenging to make as any missed detail on the face can lead to disastrous results but if done by a true artist, the result becomes a work of art.  Only expert tattoo artists skilled in the latest methods to transfer the details of a picture onto the skin can do justice to Black & Grey portrait tattoos. Some portrait tattoos are meant to show love, loss, birth or admiration. The portraits are normally done using the fine line tattoo style as it allows the tattoo artist to add more detail and special effects to create a more accurate depiction of the picture.  Portrait tattoos require patience. It is a slow but sure process as portraits are tattoos that simply cannot be rushed. It takes a great deal of effort and skill to ensure that all of the details are there.