With a steadfast commitment to art and the experience of the client, Katana Tattoo skillfully crafts black and grey tattoos, setting a high standard in De Pere, WI. Proficient in both detailed small work and large, complex pieces, our artists dedicate themselves to every custom design, guaranteeing that the art inked onto your skin is a faithful representation of your personal style and narrative. From the concept of an idea to its realization, our team prioritizes a superior-quality tattooing process, developing every piece—whether rooted in traditional styles or modern designs—with care, solidifying Katana Tattoo's position as a leading source for notable body art in the area.
The Origin and Evolution of Black and Grey Tattoos
Serving as an enduring form of body art, black and grey tattoos have navigated their path in the tattooing world since their Victorian-era origins. Initially used as a way for inmates to demonstrate group ties, this style has transitioned, from the 1970s up until the present, into a striking mode of expression that tattoo artists around the world have embraced. Known for their subtle sophistication and visual strength, black and grey tattoos persist in providing a lasting and appealing art form, inscribing various narratives upon the skin in an exceptionally alluring way.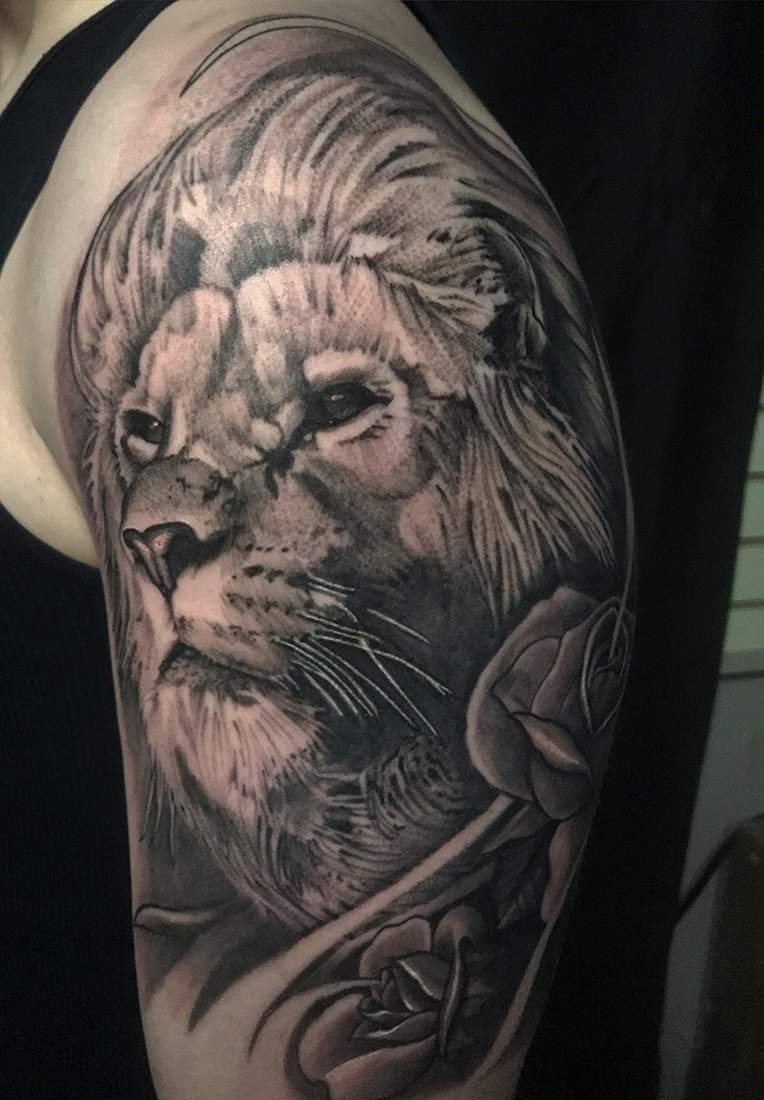 Behind the Needle: The Black and Grey Tattoo Artist
In the specialized field of body art, black and grey tattooing unveils a peculiar style, obligating the tattoo artist's fine-tuned skills and enriched experience. With the task of generating impactful art pieces on the skin, using only black and grey to highlight depth and design, precision is of the essence. Embracing this binary style, tattoo enthusiasts in De Pere observe artists' exciting ideas, shaping them into everlasting tattoo designs that vary from unassuming shapes to sophisticated creations. The journey from a mere idea to a dazzling tattoo piece involves joint work between artist and client, prospering in the dedicated environment of a tattoo shop, thus permanently inscribing intricate designs into the client's style and persona.
Exploring Black and Grey Ink Versatility
Encompassing more than one technique, black and grey tattooing signifies an extensive variety of styles, for example, realism, portrait tattoos, and also Japanese Irezumi, thereby marking itself as one of the most distinguishable styles in the tattooing arena. Even though the exact method may shift according to the black and grey tattoo artist, it generally incorporates using a single needle and black ink, generating multiple grey tones through a technique termed as a "wash." Through this method, the tattoo artist can establish diverse grey shades, providing various levels of texture and depth, and creating remarkable 3-D and elaborate art. The progression from dark to light shades, resembling a black and white photograph, provides a depth and dimension that a black and grey tattoo endeavors to showcase.
Choosing black and grey tattoos can be economically wise and time-efficient, particularly when the artist's fee is hourly, as they often require less time compared to detailed, full-color pieces. However, this doesn't translate to reduced quality or expedited work; rather, they typically reach completion faster than a similarly detailed piece employing varied color.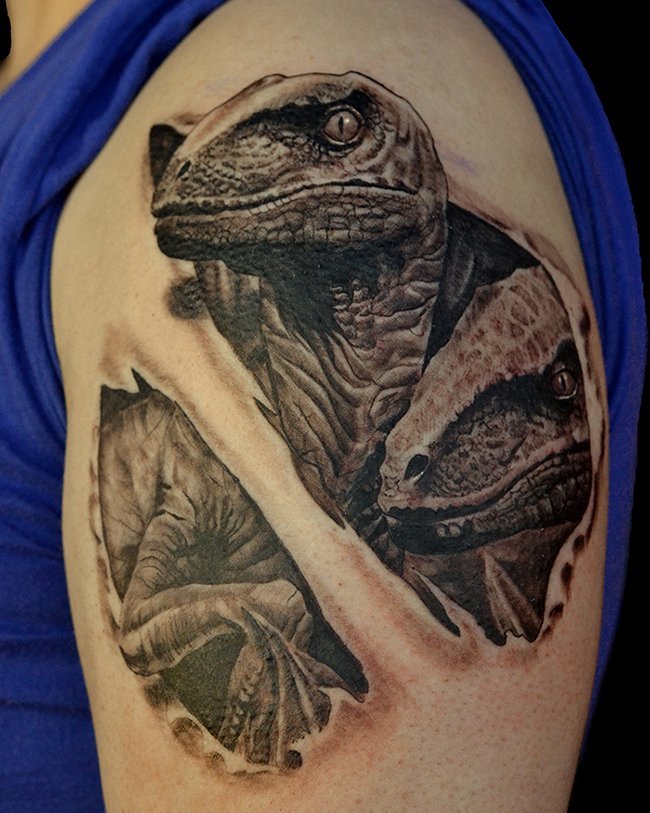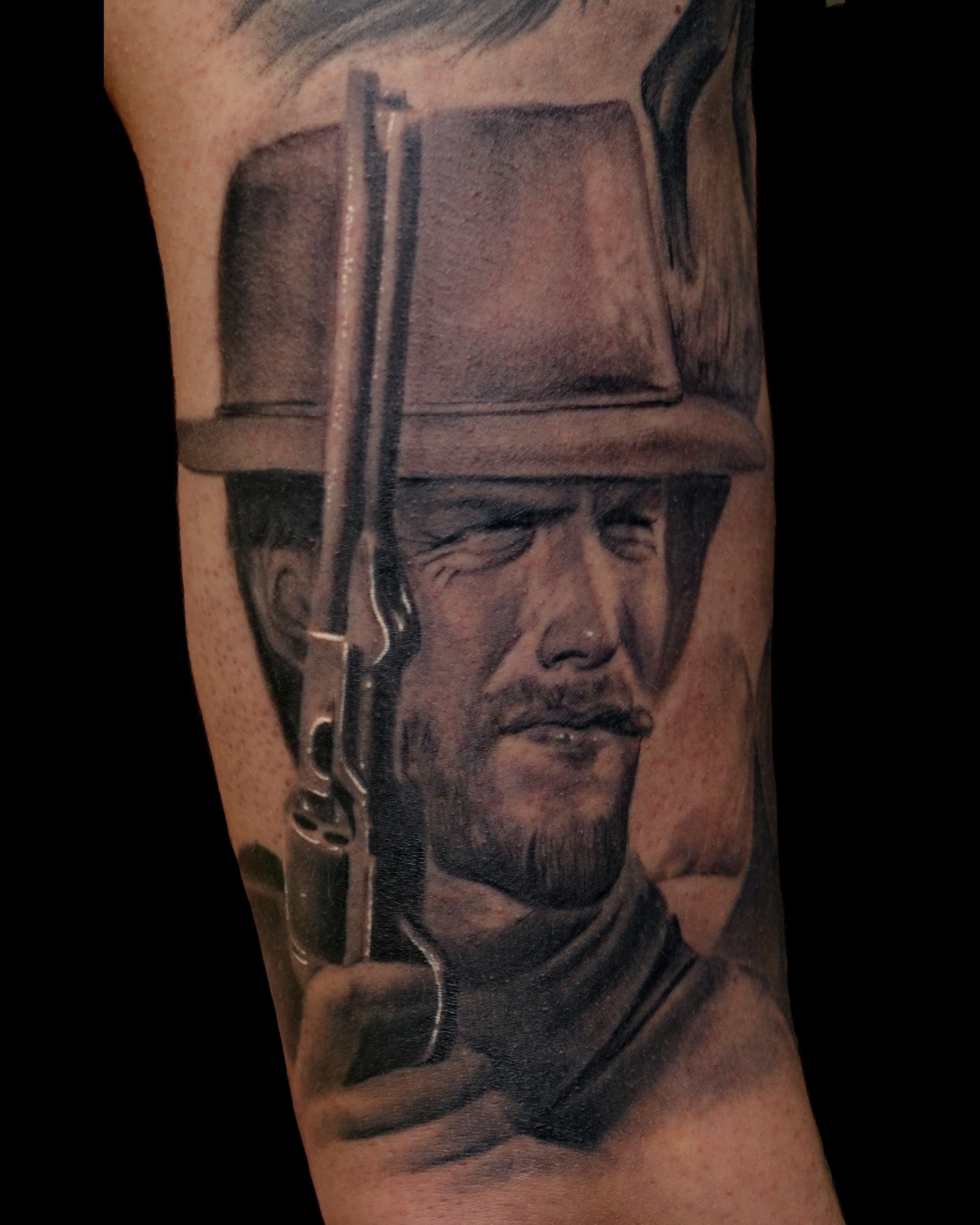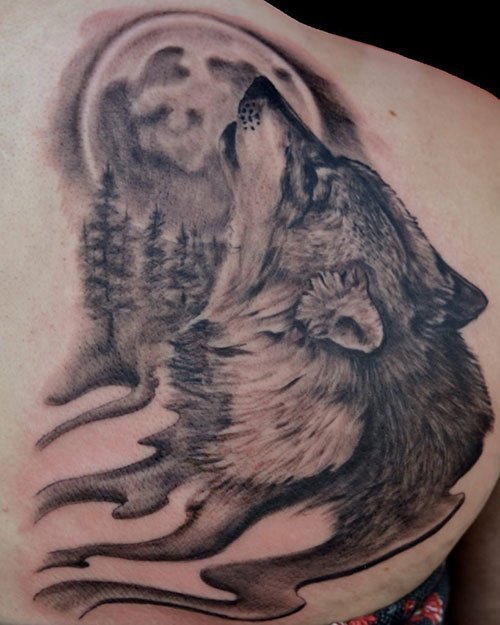 The Process of Creating Black and Grey Tattoos
The creation of black and grey tattoos by our tattoo artists follows a meticulous process, one that begins with a consultation to capture the client's ideas and vision. After securing an appointment, the artist proceeds to work on a custom design.
Utilizing their skills in this area, our artists provide high-quality tattoos, characterized by sharp, clean lines and detailed shading. This is achieved through a tattooing process that employs a needle to insert shades of black and grey ink into the skin, thus establishing a lasting, permanent design.
Considering the Location for Your Black and Grey Tattoo
The positioning of black and grey tattoos influences their design and visual appeal. Our tattoo studio has produced pieces on various sections of the body, and some locations have emerged as particularly popular for such expressive body art.
Tattoos on the Chest
Employing the chest as a canvas, black and grey tattoos can unfold larger, detailed pieces with a particular resonance. From symbolic heart images to complex scenes, designs in this area showcase exquisite shading and defined line work, rendering each tattoo a distinctive and meaningful piece of body art.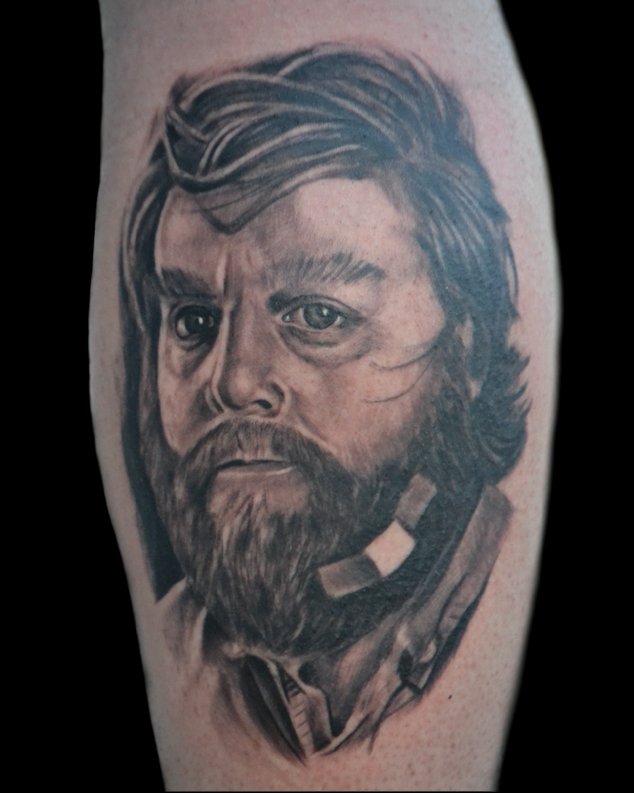 Tattoos on the Back
Black and grey tattoos displayed on the back, turn it into a striking exhibit of tattoo artistry, providing ample area for both full-back pieces and smaller, centered designs. This extensive canvas of the body supports detailed, widely shaded, and larger designs that may not be feasible on other body parts, translating into stunning pieces.
Tattoos on the Arm
Ranging from intricate tribal designs to beautiful portraits, black and grey tattoos find an expressive canvas in arm tattoos, a popular choice among tattoo enthusiasts in De Pere, WI. Whether a small, concealed piece or a large, detailed sleeve, the arm offers a versatile platform for showcasing these shades.
Ensuring your tattoo encapsulates your personal style is paramount, and with black and grey tattoos, whether on the arm, chest, or back, Katana Tattoo is here to guide you through selecting the most meaningful location.
Brilliance in Black and Grey Portrait Tattoos
Black and grey portrait tattoos are a specialty of ours at Katana Tattoo, with our artists brilliantly bringing forth uncanny realism in these pieces, offering a magnificent way to honor memories and individuals through an impactful piece of art. We stand ready to transform your idea into a breathtaking piece of black and grey body art to vividly bring your vision to life, whether it's a portrait of a loved one or a cherished pet.
Your Artistic Journey Begins with Katana Tattoo
In the diverse world of black and grey tattoos, Katana Tattoo establishes itself as the ideal place for anyone in De Pere, Wisconsin, looking to dive into this ageless style of body art. Ensuring a welcoming and informative experience for all, our team is dedicated to translating your distinctive ideas into stunning, customized art, with a focus on the rich heritage and innovative possibilities of this specialized tattooing style.
Katana Tattoo offers its services to clients, ensuring that every question concerning the tattooing process is thoroughly addressed. We offer consultations and your appointments are configured to meet your expectations in a place where your conceptual vision is respected, explored, and dynamically rendered on your skin. Each piece mirrors your individuality and the intricate artistry of black and grey tattoos, marking the beginning of our expressive journey together.
Frequently Asked Questions
Q: What is distinctive about black and grey tattoos in comparison to colored tattoos?
A: Black and grey tattoos primarily use a scale of black, grey, and white inks to create a wide array of shades and textures. This style can bring out a different aesthetic and level of detail compared to colored tattoos, often resulting in a more realistic or softer appearance, depending on the design. The emphasis on shading and contour can make these tattoos uniquely striking and visually impactful.
Q: How can I decide between a small or large black and grey tattoo design for my body?
A: Choosing between a small and large tattoo design often involves considering your comfort, the visibility of the art, and the detail you desire in the tattoo. A larger canvas allows for more detailed and intricate designs, whereas small tattoos can be subtle, minimalistic, and symbolic. Your artist can assist in visualizing how the design will translate to different sizes and help you determine the scale that best suits your vision and body.
Q: How do I select a custom design for my black and grey tattoo at your shop in Green Bay, WI?
A: When opting for a custom design, it's beneficial to consult directly with your artist. Bring any inspiration, ideas, or images to the consultation, allowing the artist to comprehend your vision. Through collaboration, you and the artist can create a custom design that encapsulates your desired aesthetic and meaning.
Q: Are there any specific care instructions for recently inked black and grey tattoos on my skin?
A: Yes, after getting inked, it's crucial to follow your tattoo artist's aftercare advice to ensure proper healing of your skin and preserve the integrity of the ink. This usually involves keeping the tattoo clean and moisturized, avoiding sun exposure, and refraining from submerging it in water for specified periods.
Q: How long does it take for a black and grey tattoo to heal on my skin?
A: Healing time can depend on the size and placement of the tattoo, as well as your body's healing capabilities. Typically, the surface layer of skin may heal within 2-3 weeks, while the deeper layers may take up to a few months to fully recover. Proper aftercare is vital during this period to protect your ink and skin.
Q: Can people with darker skin tones get black and grey tattoos?
A: Absolutely, people of all skin tones can get black and grey tattoos. Artists experienced with working on diverse skin tones will know how to select the right ink shades and tattooing techniques to ensure the design appears vibrant and well-defined on every individual.
Q: What is the process of getting a custom-designed black and grey tattoo at your tattoo shop?
A: The process typically involves a consultation, during which you and your artist will discuss your design ideas, placement, and size. The artist may create a sketch or stencil and make necessary adjustments based on your feedback. Once the design is finalized, you'll schedule a session to get inked, after which you'll receive instructions for aftercare to ensure optimal healing and longevity of the design.
Q: What kind of themes or imagery work well with black and grey tattooing style?
A: Black and grey tattooing is versatile and works well with various themes and imagery, including but not limited to portraits, realism, surrealism, floral designs, animals, and geometric patterns. The nuanced shading possible with black and grey ink allows for a rich depth and dimension, making it suitable for a broad spectrum of designs and themes.
About De Pere, WI
De Pere, Wisconsin, establishes itself as a city in Brown County where the charm of small-town living harmoniously meets vibrant community life. Enriched by the picturesque Fox River which bifurcates the city, De Pere presents numerous opportunities for waterfront recreation, including fishing, boating, and enjoying scenic walks along the river's edge. Voyageur Park, situated alongside the river, is a popular spot, hosting a variety of community events and offering spaces for picnics, fishing, and leisurely days out. Furthermore, the city features a range of parks and green spaces which serve as venues for outdoor activities, ensuring that residents and visitors alike have ample opportunities to engage with nature and partake in recreational pursuits.
The cultural and historical tapestry of De Pere is also rich. The city is home to St. Norbert College, an institution that not only serves as an educational hub but also contributes to the local cultural and social scene, hosting events, performances, and lectures that are often open to the public. In addition, De Pere's historical downtown district, with its elegant architecture and array of shops, restaurants, and cafes, is a delightful area to explore, shop, and dine. Through its combination of natural beauty, recreational opportunities, and cultural vibrancy, De Pere crafts a living experience that is both tranquil and engaging, resonating with a warm and inviting community spirit.
De Pere, WI Zip Code
54115
Areas We Offer Black and Grey Tattoos:
Directions to Katana Tattoo