Katana Tattoo emerges as a pinnacle of black and grey tattoos by emphasizing the art and client experience in Bellevue, WI. Skilled at creating both small, detailed work and large, complex pieces, our artists ensure that each custom design captures your personal style and story. From the spark of an idea to its translation onto your skin, our staff is devoted to a superior-quality tattooing process. From classical to modern styles, every piece is forged with precision, highlighting the profound expertise of our tattoo artists.
The Timeless Elegance of Black and Grey Tattoos
Carving a unique trajectory in the world of tattooing, black and grey tattoos have stood the test of time as a compelling form of body art since their initial appearance in the 19th century. What began as a way for prisoners to indicate group associations has, from the 1970s up to the present, developed into a subtly dynamic expression embraced by tattoo artists worldwide. Recognized for their subdued elegance and powerful visual impact, black and grey tattoos continuously represent a timeless and captivating art form, chronicling stories on the skin in a uniquely intriguing way.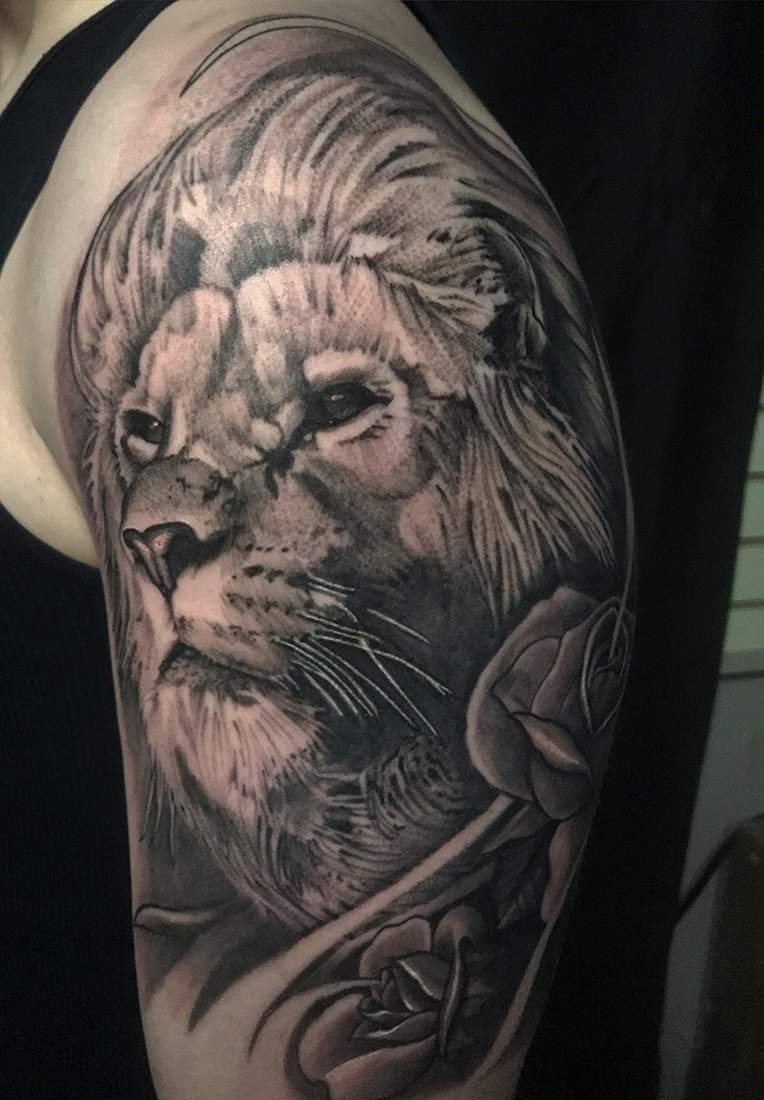 The Work of a Black and Grey Tattoo Artist
Within the domain of black and grey tattooing in body art, a singular style surfaces, compelling meticulous expertise and in-depth experience from a tattoo artist. Charged with forming visually impactful art pieces upon the skin, utilizing solely black and grey ink to convey depth and design, precision becomes vital. Enthusiasts of tattoos in Bellevue are attracted to this monochromatic style, in which artists bring ideas to life, transforming them into classic tattoo designs that extend from uncomplicated forms to complex artistry. The transition from an initial idea to a breathtaking tattoo piece is a collaborative work between the client and artist, a cooperative relationship that grows within the specialized space of a dedicated tattoo shop, enabling intricate designs to become a perpetual element of the client's style and expression.
The Potential of Black and Grey Ink
Not confined to a singular approach, black and grey tattooing represents an assortment of styles, including realism, portrait tattoos, and Japanese Irezumi, establishing itself as one of the most notable styles in the tattooing domain. While execution methods can vary according to the black and grey tattoo artist, standard practice employs a single needle and black ink, achieving several shades of grey through a "wash" process. This enables the tattoo artist to create various shades of grey, allowing for multiple levels of texture and depth, and resulting in eye-catching 3-D and intricate works of art. Transitions from dark to light, reminiscent of a black and white photograph, create a sense of depth and dimension that a black and grey tattoo endeavors to capture.
When choosing black and grey tattoos, one might find them to be a more economical option, particularly when the artist charges by the hour, due to their often-faster completion time compared to full-color pieces. This is by no means indicative of lower quality or hastily executed work but simply means they can be completed more swiftly than a similar piece with varying color and detail.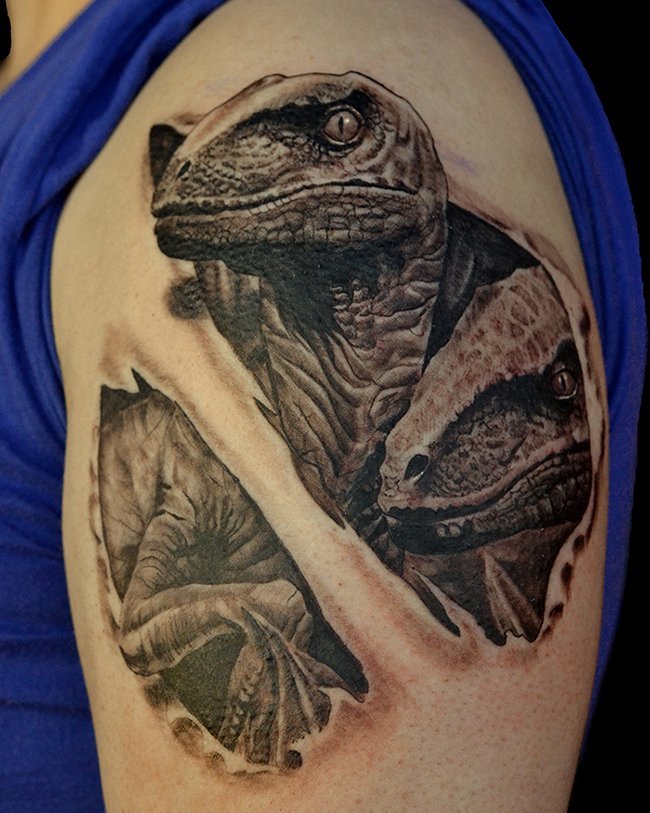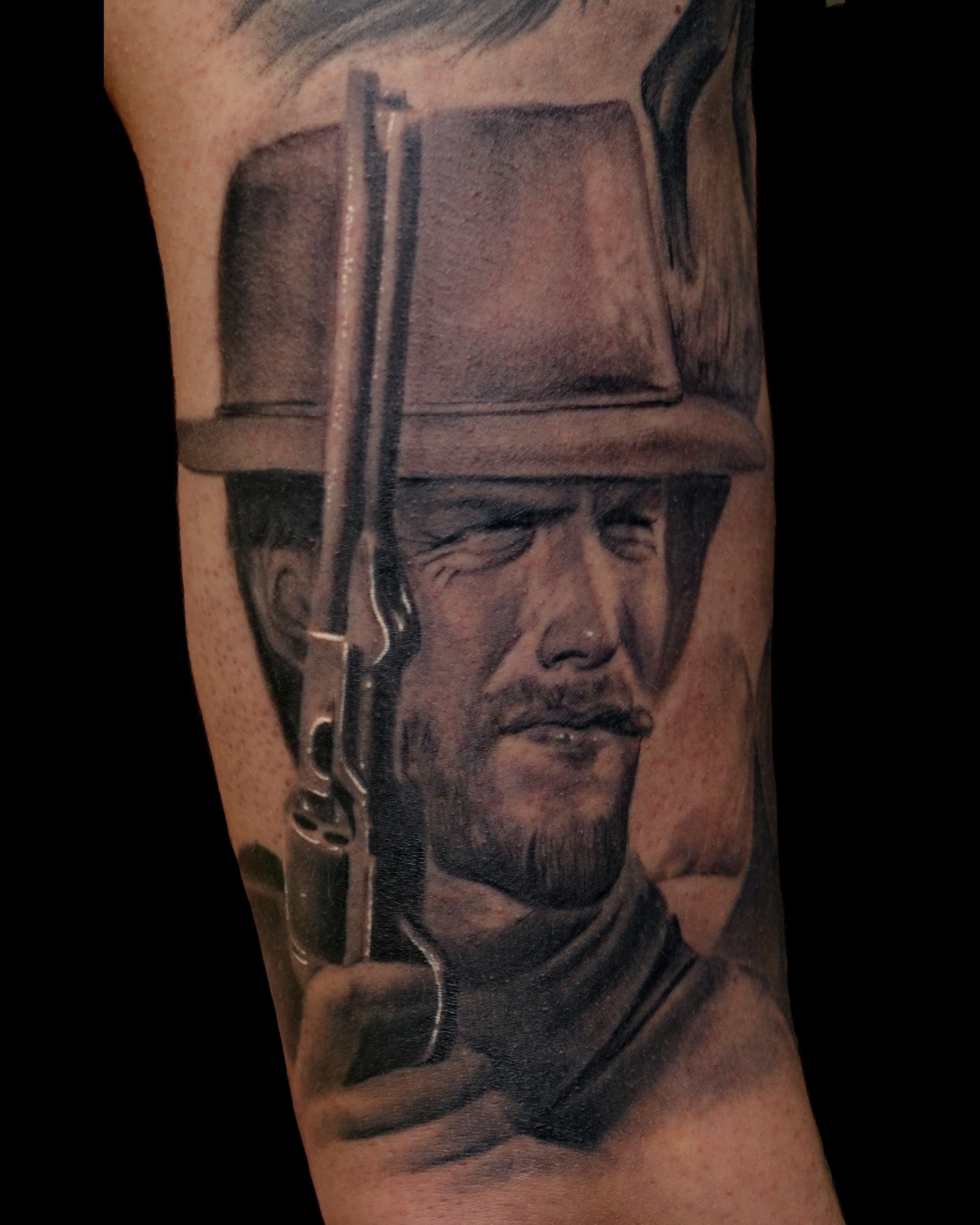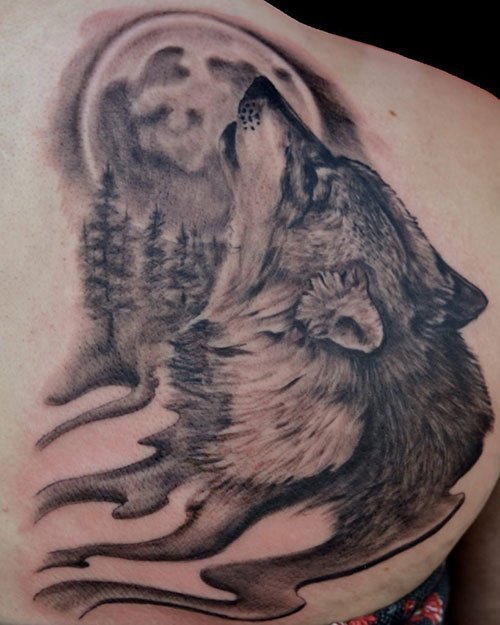 The Intricate Process of Developing Black and Grey Tattoos
Our tattoo artists initiate the meticulous process of producing black and grey tattoos with a consultation, immersing themselves in the client's ideas and vision. Following an appointment, work begins on crafting a custom design by the artist.
Modified by diluting black to obtain numerous grey tones, the ink is imparted into the skin via a needle throughout the tattooing process, fashioning a permanent design. Demonstrating their expertise in this area, our artists ensure each tattoo is of high quality, featuring defined, clear lines, and detailed shading.
The Importance of Tattoo Placement
Choosing a location for your black and grey tattoo is vital in determining the design and visual significance they hold. Our tattoo studio has developed numerous pieces across various body areas, with some locations being especially preferred for specific pieces of body art.
Arm Tattoos
For tattoo aficionados in Bellevue, WI, black and grey tattoos have found a favored spot on the arm, providing a splendid canvas for everything from compact, subtle pieces to large, elaborate sleeves. Designs, from tribal patterns to authentic portraits, highlight the striking black and grey shades.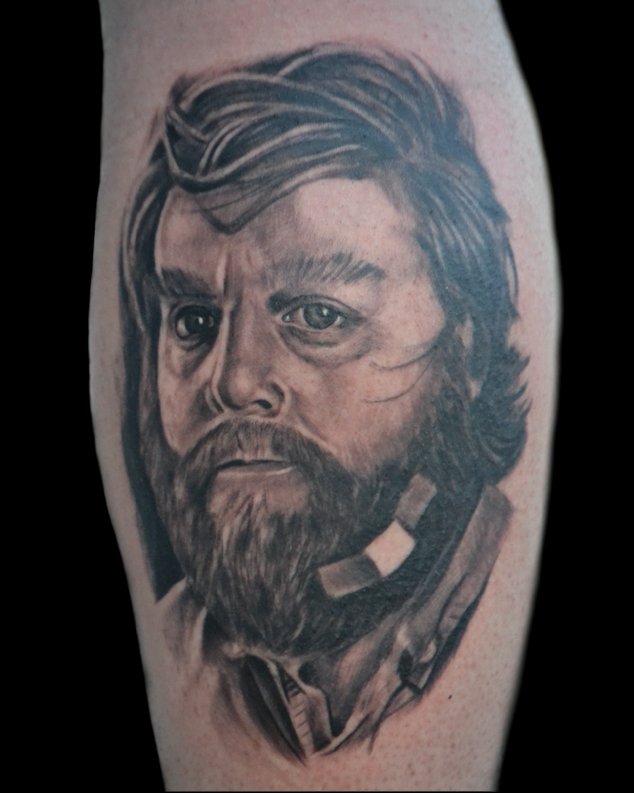 Chest Tattoos
The canvas of the chest allows black and grey tattoos to present larger, detailed pieces with a notable impact. This area, whether spotlighting symbolic heart figures or more intricate scenes, with precise shading and detailed line work, becomes a significant and personal platform for each piece of body art.
Back Tattoos
As the body's largest canvas, the back provides ample space for various tattoos, especially allowing detailed and large black and grey tattoos to fully unfold. Whether the preference leans towards full-back pieces or smaller, centered designs, the area of the back facilitates detailed and large-scale designs, resulting in awe-inspiring pieces of tattoo artistry.
Your tattoo should embody your unique style. Whether you choose your arm, chest, or back for your black and grey tattoo, Katana Tattoo is here to help you decide on the most expressive location
Black and Grey Portrait Tattoos
At Katana Tattoo, our artists excel in manifesting black and grey portrait tattoos, where each piece illuminates a remarkable realism and presents a heartfelt way to capture a likeness or memory within a cherished piece of art. Our mission is to transform your idea into a stellar piece of black and grey body art, bringing to life every individual tattoo with careful attention, whether it's a representation of a cherished love one or a dear pet.
The Adventure of Artistry Begins at Katana Tattoo
Exploring the world of black and grey tattoos brings individuals to Katana Tattoo, a place where the art of tattooing is taken to new heights. Anyone in Bellevue, Wisconsin, aspiring to embody this enduring style of body art is assured a warm welcome and thorough guidance, as we transform your ideas into extraordinary, custom creations, firmly rooted in the profound traditions and modern innovations of this tattooing style.
We welcome clients to experience our services at Katana Tattoo, guaranteeing that all questions regarding the tattooing process are fully addressed. Expert consultations are offered, and your appointments are adjusted to meet your expectations in a place where your vision is respected, explored, and vibrantly brought to life on your skin. Each piece reflects not only your individuality but also the deep artistry of black and grey tattoos as we begin this expressive journey together.
Frequently Asked Questions
Q: How can someone prepare their skin for a tattooing session for black and grey tattoos?
A: To ensure the skin is ready for the needle, it's crucial to moisturize, avoid excessive sun exposure, and inform the artist of any skin conditions that might affect the tattooing process, ensuring optimal inked results.
Q: Can a black and grey tattoo be customized according to skin type at your shop?
A: Absolutely, artists often customize ink and design techniques to suit different skin types, ensuring that black and grey tattoos appear vibrant and clear, while also minimizing potential skin reactions.
Q: How can customers ensure their black and grey tattoos remain vibrant for an extended period?
A: It's vital to follow aftercare instructions, including keeping the tattoo clean and moisturized, and avoiding direct sunlight, to maintain the vibrancy of black and grey tattoos on the skin.
Q: What sets Katana Tattoo apart when it comes to creating detailed black and grey tattoos?
A: A focus on intricate design, experienced artists, and a dedication to customer satisfaction sets our shop apart in crafting detailed and aesthetically pleasing black and grey tattoos.
Q: Why choose black and grey tattoos over colored ones?
A: People often choose black and grey tattoos for their timeless appeal, potential for detailed shading, and ability to create lifelike images and designs on the skin.
Q: Can customers bring their black and grey tattoo designs, or does the shop provide custom designs?
A: Customers can typically bring their designs, and artists usually collaborate with them to either adapt those or create new, custom designs, ensuring the final tattoo is personalized and meaningful.
Q: How does your tattoo shop prioritize a safe and hygienic environment during the tattooing process?
A: Maintaining a clean, sterile environment is crucial, employing sanitized equipment, utilizing gloves, and ensuring all artists adhere to stringent hygiene standards throughout the tattooing process.
Q: Is there a way to schedule a consultation for black and grey tattoos at your tattoo shop in Green Bay, WI?
A: Yes, customers can schedule a consultation to discuss design ideas, placement, and sizes for their black and grey tattoos, ensuring clarity and satisfaction before proceeding.
Q: How does an artist decide on shading techniques for black and grey tattoos?
A: Artists use their expertise to determine shading techniques based on design intricacy, placement, and size, ensuring the black and grey tattoos showcase depth and realism on the skin.
Q: What part of the body is popular for black and grey tattoos, and does it affect the design process?
A: Popular areas can vary, but arms, back, and chest are often chosen for black and grey tattoos. The body part can influence design adaptability, shading, and size to ensure aesthetic and longevity on the skin.
About Bellevue, WI
Bellevue, Wisconsin, situated in Brown County, provides a canvas of suburban comfort, natural beauty, and active living. Despite its status as a village, Bellevue offers a compelling mix of urban amenities and plentiful options for outdoor recreation. With its parks, trails, and recreational areas, the village ensures that residents and visitors have abundant opportunities to engage with nature. Josten Park, for instance, is a popular spot, providing spaces for sports, picnicking, and outdoor gatherings. Meanwhile, the East River Trail provides a scenic pathway for walkers, runners, and cyclists to explore and enjoy the local landscape.
In addition to its recreational offerings, Bellevue also hosts a variety of community events and activities that underscore its warm and engaging community spirit. The village's commitment to community development is reflected in its well-kept public spaces, provision of services, and the regular organization of events that cater to a wide range of ages and interests. The proximity of Bellevue to larger cities like Green Bay enables residents and visitors to easily explore broader cultural and entertainment options, ensuring a balanced lifestyle that melds tranquility and activity. The blend of community, convenience, and nature make Bellevue a welcoming and delightful locale in Wisconsin.
Bellevue, WI Zip Code:
54311
Areas We Offer Black and Grey Tattoos:
Directions to Katana Tattoo