Want the Best Tattoo Shop?
Why are people from the Midwest traveling all the way to Green Bay, Wisconsin to get their Japanese Tattoos?
Ink is permanent and they want it done right!
Paul Dhuey is the best Japanese artist in the Midwest.
Over 21 years of experience creating high quality Japanese style tattoos.
Katana Tattoo is world renowned and recognized.
Reviews From Our Customers
Japanese Tattoo Shop in the Midwest USA
The art of tattooing is a spiritual and artistic expression. It is a commitment and a passion. Katana Tattoo is a premier Tattoo Shop in the Midwest that specializes in Japanese, American and Traditional style tattoos. Located in Green Bay, WI, we serve clients in the upper Midwest and all over the country.
Once you have made the decision to get a tattoo, selecting the right tattoo studio will make a huge difference in the success of your tattoo. Katana Tattoo is a fully certified tattoo studio with state-of-the-art facilities, manned by some of the best tattoo artists in the business. You know you've come to the right place when you select Katana Tattoo for your first or next ink on skin expression.
A true hallmark of a reputable tattoo shop is the number of referrals they get from happy clients.  Men and women from all over the country come to Katana Tattoo to get inked.  Many of these people trust us for their most important tattoos because of the recommendations of their friends, colleagues and people they trust. This faith that people put in us is a testament to our integrity and the true artistry of our resident tattoo artists.
We emphasize a clean, sterile working environment to ensure the safety and well-being of our clientele. Rest assured when you come and visit our tattoo shop you will see our attention to detail and adherence to the proper sterilization and safety methods before, during, and after the session for the benefit of all our customers.
When you get your tattoo with us, you have our full and undivided attention.  Because of this, all sessions are by appointment only. Not only will this ensure that we are able to provide you the necessary time to create art for your body but also to ensure that the entire customer experience is felt at a personal level. Getting a tattoo is a big decision so it is vital your tattoo artist understands what you want by putting emphasis on your needs and objectives. We connect on a personal level with our customers so they feel comfortable and confident with their decisions. We also provide insight and advice regarding the best placement of the tattoo on their bodies to get the best results. If you are looking for Japanese, American, or Traditional style tattoos, you have come to the right place. Let Katana Tattoo realize your skin artwork for you. People in the know come from all over the United States to visit our Midwest Tattoo Shop.
Here are some of the major cities we often see clients traveling from.
Japanese Tattoo Artist in the Midwest
Paul Dhuey is the founder and owner of Katana Tattoo. He brings to the table over 21 years of experience and is regarded as one of the world's best Japanese tattoo artists.  He has brought his tattooing expertise to some of the best tattoo shops in the United States and Europe. Recognized both nationally and internationally, Paul's specialty is bringing traditional Japanese tattoos to life.  Having spent the last nine years tattooing for the prestigious Guru Tattoo, Gallery and Left Hand Black Tattoo, Paul is your go-to guy for exquisite Japanese artwork for your skin.
Rich in intricate detail and texture, Japanese tattoos work best in a larger format and are recommended as body pieces in order to show their full splendor.  Paul's specialty is providing exemplary tattoo work with emphasis on large pieces.  Talented, dedicated and experienced, there is no one that can match his skill with the needle when it comes to elegant Japanese tattoo work.
Japanese Style Tattoos – Brief Introduction
Japanese tattoos have been around for thousands of years. The art goes back to the Yayoi Period (c. 300BC- 300AD). Traditionally known as Irezumi the inspiration for the spectacular images were from mythical beasts, leaves, flowers, or images from stories. In those days, Japanese style tattoos were linked to status symbols and as well as spirituality.  Marking status was important because it distinguished master from slave.  Subjects associated in Japanese tattoos are mysterious and diverse much like the ancient culture and tradition that Japan is known for.  There are strict placement rules for the tattoos, and backgrounds are often just as important as the design. Wind bars, clouds and waves are laid somewhat as textiles in the background to give them almost a two-dimensional feel.  Clouds should be placed above the waist and waves below. Placing a Buddha figure below the waist is considered disrespectful. There should also be a logical pattern to follow when it comes to the use of flowers and animals.
Popular Body Placement For Japanese Tattoos in the Midwest
Like most in Japanese art, the art of tattooing or Irezumi has been around for many centuries. It began as a means of decorating one's face and bodies for artistic and societal purposes but later as a means of branding and punishment. Outlawed in the 18thand 19thcentury, the art was introduced to traveling sailors which allowed the cultural symbols, motifs and styles to be known outside Japan and the world.  While still shunned by the conservative Japanese today, the art of Japanese tattooing has gained worldwide popularity, especially in Midwest.
Japanese Body Art
Japanese body art mostly showcases Midwest's proclivity and respect for nature especially flowers and animals.  Moreover. Japanese tattoos with almost the same zeal also portray figures and portraits as representations of the wearer's persona. A lot of Japanese tattoos portray animals that show courage and strength. For example, dragons, tigers and lions often depict a protective stance for the wearer.  Historically popular as well is the Koi fish as this represents good fortune, success and good luck.
Not surprisingly, the cherry blossoms or Sakura is considered one of the most popular floral motifs seen in Japanese tattoos. Other floral motifs that are quite popular as well include peonies, Lotus flowers and Chrysanthemums.
Figures both real and mythological are often portrayed in many body art pieces. For instance, geishas and samurai warriors are portrayed and are engrained in realism while mythological beings like Tengu or ghosts as well as Oni, which are demons or troll like beings are also likewise seen in Japanese body art.
Japanese tattoos are visual and artistic expressions on the body as each tattoo often has an underlying meaning. Full of symbolism, it is a very popular form of body art. Not only does it have roots in the most traditional sense but it also traverses culture and time as even by modern standards, the tattoos are very much in vogue for people that want to express their innermost hopes, dreams, struggles and aspirations through tattooing.
Japanese Body Suit Tattoos
Interested in getting a Japanese full bodysuit tattoo in Midwest? At Katana Tattoo we specialize in providing large tattoos including the Japanese bodysuit the entire portion of your body. Known for their beautiful and eye-catching designs, bodysuit tattoos are not for everyone but for those that want the full treatment, we can guarantee a beautiful outcome that you will surely appreciate. The bodysuit tattoo is not exclusive to Japan but it generally refers to a rite of passage, a symbol of marriage or a status symbol. The main area that comprises the Japanese bodysuit tattoo is the back piece with full background. This tattoo covers the entire backside from the neck until around twenty to thirty centimeters just below the buttocks crease.  The reason being this is the largest area that can be seen in just one look. Let Katana Tattoo realize your desire of getting the ultimate Japanese bodysuit tattoo. We are just a quick drive from Midwest and we guarantee it will be worth the trip!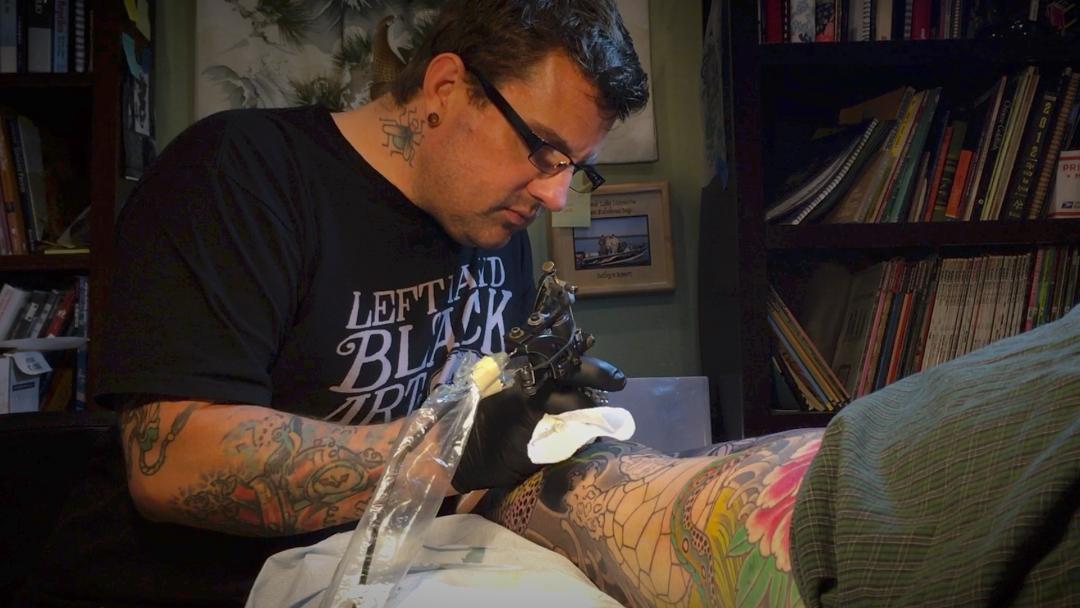 Japanese Full Body Tattoos in Midwest
In the past, full body tattoos were considered taboo but today tattoos generally are accepted almost everywhere. Full body tattoos are artistic and visual expressions and they are a sight to behold for the wearer. If you are ready to take the jump to have a Japanese full body tattoo, let our Katana Tattoo artists talk you through the many design options to choose from. Getting a tattoo is a commitment, getting a full body tattoo is a lifetime goal. If you want to achieve the dream of getting inked all over your body, let Katana Tattoo help you in the selection and placement process. Our team of resident tattoo artists are recognized in Midwest and the world over for their talent and experience. Let us guide you in making this dream come true.
Japanese Face Tattoos
The rich tradition that goes with every Japanese tattoo dates back hundreds of years. A Japanese face tattoo is an iconic symbol and a true expression. Katana Tattoo offers beautiful face tattoos with intricate designs and unique features. Some are based on legend while others are a direct reflection of real-life people. The face of the samurai warrior or a lovely geisha for instance is very popular.  The Hannya for instance is quite a requested piece as well. The image has devil's horns, a wide mouth and somber eyes and in itself looks very terrifying. The image is used in classical musical performances that depict Japanese folklore. The meaning of the tattoo shows that the wearer is someone that is prone to not be forgiving which is the reason also it is popular with the Yakuza. Let Katana Tattoo bring this and other face tattoos to life on your skin.
Japanese Sleeve Tattoos
Japanese sleeve tattoos are all the rage these days as the artistic Japanese style with its uniquely beautiful floral designs, spiritual meanings and colorful motifs can really make you standout from the rest. Katana Tattoo offers an interesting mix of Japanese sleeve design tattoos such as water wave, koi fish, snake, cherry blossoms, dragon, skulls, tiger and many more. Not know what you want yet? No problem. Katana Tattoo artists can assist you in making a good decision based on your body structure and preference. Our resident tattoo artists are known locally and internationally and have won distinction in their respective areas of expertise. Trust Katana Tattoo to provide you with the best Japanese sleeve tattoos.
Japanese Wrist Tattoos
If large tattoos are not for you, you will be delighted to know that Katana Tattoo can offer some of the most unique Japanese wrist tattoos around.  The wrist area may not be the largest area of the body but it is a very unique place to place a tattoo.  Katana Tattoo offers unique Japanese symbol tattoos that are perfect for the small canvas in the wrist.  Known as Kanji tattoo design these depict a lot of symbolism and the meaning and can portray a trial or challenge that the wearer has undergone or is undergoing at the moment.  You can also choose from an array of different creatures, flowers or mythological features popular in Japanese culture.  Trust Katana Tattoo to help you choose the perfect wrist tattoo for you.
Japanese Shoulder Tattoos
One of the more popular places to get tattooed is the shoulder. As a matter of fact it poses an advantage when compared to other areas of the body owing to the fact that the shoulder structure changes very little. Katana Tattoo a destination tattoo shop for residents of Midwest and are experts on Japanese shoulder tattoos. Choose from a wide array of designs ranging from mythical creatures or real life samurai warriors.  No matter what your idea is, our resident tattoo experts can help you pick the best design that will complement your body type.
Japanese Leg Tattoos
Without a doubt, Japanese leg tattoos are a statement. They look amazing when you wear a pair of shorts, as the legs are probably the most exposed parts of your body other than your arms.  Katana Tattoo specializes in Japanese inspired tattoo designs ranging from animals like the revered Koi or flowers like the ever-popular cherry blossoms and chrysanthemums.  Choose from beautiful snake, tiger and dragon designs or beautiful and elusive geisha figures in different color motifs. Katana Tattoo's team of highly trained tattoo artists can assist you in the selection process to come up with the most comfortable and or eye-catching design you want.
Japanese Tattoos Midwest – Popular Styles
When it comes to tattoo art, the Japanese tattoo is considered to be one of the most popular in Midwest. In traditional Japanese culture, a tattoo often symbolized spirituality, purpose and status.  Originally, the Japanese tattoo conveyed status a person enjoys in society but it evolved when spiritual symbols were used as a form of charm or protection and also a means of signifying devotion.  During the course of many years, Japanese tattoos were used to brand someone, similar to what the Romans did with criminals so that they can easily be recognizable.  However, this practice faded through the years and the Japanese tattoo regained its original meaning, which was as a status symbol worn by rich traders who ironically were not allowed to display their wealth.  After the 2ndWorld War, none other than Japan's divine emperor deemed tattoos illegal in an effort to repair the image of Japan with the world.  Later on, the criminal element in Japan, the Yakuza adopted a certain tattoo style, which would later become a status symbol in their organization.
The meaning behind a Japanese tattoo is connected to the different creatures natural and mystical as well as plants and people that are portrayed in the tattoo.  It is above natural self-expression so to speak as the symbols the images convey refer to a person's aspirations, beliefs and personal traits. Also referred to as motifs, they even depict famous myths and stories in the Japanese culture.  The intention behind the images is to have the same meaning regardless and is not unique specifically to the person wearing the tattoo.  So when you see a Japanese tattoo you would immediately recognize the symbolism behind and what the wearer intends to communicate to the viewer.  It could range from simple personality traits, character qualities or membership in a criminal gang like the Yakuza.
When you see a Japanese tattoo made by Katana tattoo artists, you will instantly be amazed at the strict attention to detail, color and adherence to proper placement on the body. So make the drive up to the shop from Midwest and get started today!
Dragon Tatto Designs Midwest
Interested in getting a Dragon tattoo? Katana Tattoo can hook you up with the latest dragon tattoo designs inspired from traditional and contemporary Japanese culture.  In the west, dragons normally symbolize wealth, fierceness and strength. They can both be destructive and protective forces. In traditional Japanese tattoo art, dragons are considered generous, compassionate creatures that perform deeds for mankind's good. Another trait attributable to dragon s is wisdom. The symbolism behind this beautiful tattoo has made it one of the most popular styles among the many in Japanese tattoos.  Our Katana Tattoo artists will sit with you to discuss which design would best complement your body shape and will advice also on where to place it on your body. Since these are traditional Japanese symbols, correct placement is important to ensure proper reverence is observed for the culture.
Koi Fish Tattoos
One of the most popular Japanese tattoos requested by customers, this work of art symbolizes determination and a very strong desire to succeed at any endeavor, to become something more so to speak. The Koi fish being also native to Japan it is revered for its determination to swim upstream. Legend says that if the koi fish is able to swim up the Yellow River it turns into a dragon.  The Koi fish serves as a form of metaphor for life. People that have undergone a struggle or adversity and have conquered it will want a Koi tattoo on their body. Let Katana Tattoo bring to life this beautiful tattoo design on your body.
Yakuza Tattoos Midwest
Katana Tattoo can provide customers with an interesting array of beautiful Yakuza tattoos.  The symbolism behind Yakuza tattoos is reflective of the Yakuza culture; the full body suit tattoo for instance is a prime example.  Our experienced Katana Tattoo artists can guide you on the many interesting and varied designs available. Each tattoo signifies different meanings ranging from determination, hope, good fortune, struggle against odds and many more. Some are used as a form of protection while others tell something about the Yakuza member's life. Be it a beautiful Koi or a dazzling samurai warrior or a majestic dragon, trust Katana Tattoo to bring these symbols of Yakuza prominence to life.
Samurai Tattoo
Highly motivated, loyal, disciplined elite warrior class, the samurai is the embodiment of what a true warrior is. At Katana Tattoo we have a number of different samurai tattoo designs for you to choose from. The tattoo may come in a range of sizes and styles. However, many designs are bigger because of the amount of detail needed in the tattoo.  The samurai tattoo is a symbol that signifies courage and strength.  Depending on the design there are a host of meanings that can come with the tattoo, you can discuss all of your ideas and questions with our expert Katana Tattoo artists who will guide you on what designs work best with your persona as well as suggest what area of the body it can be placed to achieve the best effect.
Japanese Symbol Tattoos
Prefer characters rather than images for your tattoo? Katana tattoo offers Japanese symbol tattoos, understated yet quite impactful when placed on bare skin. They are elegant yet small enough to place in different areas of your body. One can say, getting a Japanese symbol tattoo otherwise known as a kanji tattoo is the most understated means to convey an artistic sentiment that is meaningful and modern at the same time. Very popular in US and Europe, this tattoo is perfect for people that want to express themselves in symbols. Trust our team of experienced and highly trained tattoo artists to help you select the right symbol and meaning for placement on your body.
Japanese Skull Tattoos
Usually, the skull in most tattoo cultures and art means danger or death. However, when used in the Japanese context, the skull tattoo is intended to have a positive meaning. It is meant to convey the natural cycle of life. In the traditional context, the skull tattoo is used to represent change. Our Katana Tattoo artists can show you different design contexts for this striking skull tattoo.  Meant to be a symbol for celebrating life rather than death, the skull tattoo can be depicted in beautiful color schemes. Book an appointment with us today to learn more about how we can help you in selecting a skull tattoo design that complements your intended body part placement and personality.
Japanese Lion Tattoos
The Japanese Lion Tattoo represents protection, strength and courage. When depicted as statues they act to protect and keep evil away, as a tattoo on skin they serve to protect the wearer. Lion tattoos often show the wearer as both courageous and imbued with heroic aspirations. Quite commonly seen in entrances to shrines, persons inked with this tattoo are said to be prepared ready to defend his rights, property and dignity. Trust Katana Tattoo to bring this intricate and majestic figure to life on your body. There are different concepts to choose from and. Katana Tattoo's resident tattoo artists are highly trained and experienced to help guide you on the selection and placement process for this design.
Geisha Tattoos Midwest
When it comes to colorful and creative body art that portrays the human form, quite a few can compare to the majesty and grace of the Geisha.  The Geisha in traditional Japanese refers to artist or performing artist and they are female hostesses with exquisite talents in conversation, music and dance. The beautiful Geisha tattoo is worn by both men and women and is also a very popular request here at Katana Tattoo. The Geisha tattoo symbolizes exotic grace and divine beauty. Katana tattoo artists convey very colorful and intricately designed pieces to fully capture the beauty of this mysterious creature.  The geisha is a representation of female power and mystery. Her specialized talents and refined ways make her elusive and almost unattainable. She represents aspirations, dreams and desires. Katana Tattoo specializes in exquisite and intricate Japanese tattoos like the beautiful Geisha for Midwest residents.
Blue Koi Fish Tattoo
The beautiful Koi fish is full of symbolism and the Koi itself when depicted in Japanese tattoos refer to determination against adversity, achieving a goal or a transformation in life. There are different colors of Koi and they each have their own respective meanings. The blue koi for instance, is often equated with masculinity or virility and hence with reproduction. The blue koi is also symbolic of the son of a family. The color blue in this regard also represents calmness, tranquility and peace. Allow our meticulous Katana Tattoo artists place this beautiful symbol of peace and manliness on your body.