Katana Tattoo is the premier location for portrait tattoos near Bellevue, Wisconsin. Our team of devoted tattoo artists is committed to transforming your body into a canvas that reflects your individuality and personal narrative. As masters of portrait tattoos, we're eager to share our expertise on the craft of tattooing, its enthralling history, and our approach to this unique art form. In this comprehensive guide, we'll delve into various aspects of portrait tattoos, encompassing styles, pricing, design creation, placement, and aftercare.
The Evolution of Tattoos
We take immense pride in being part of the diverse tattooing heritage. Although tattooing has ancient roots in indigenous cultures, portrait tattoos have seen a surge in popularity more recently. Contemporary tattoo artists near Bellevue and beyond continually push the boundaries of their art form. The progression of portrait tattoos, from the earliest indigenous tattoos to the cutting-edge work crafted by our artists today, is truly remarkable.
Various Styles of Portrait Tattoos
As a tattoo studio that specializes in portrait tattoos, we offer an extensive array of styles to accommodate our clients' preferences. Some may opt for realistic portraits, capturing the essence of a loved one or a cherished celebrity with photographic accuracy. Others may be drawn to a stylized or abstract approach, incorporating their distinct vision and the artist's creative flair. Regardless of the style, our talented artists at Katana Tattoo will collaborate closely with you to design the ideal portrait piece.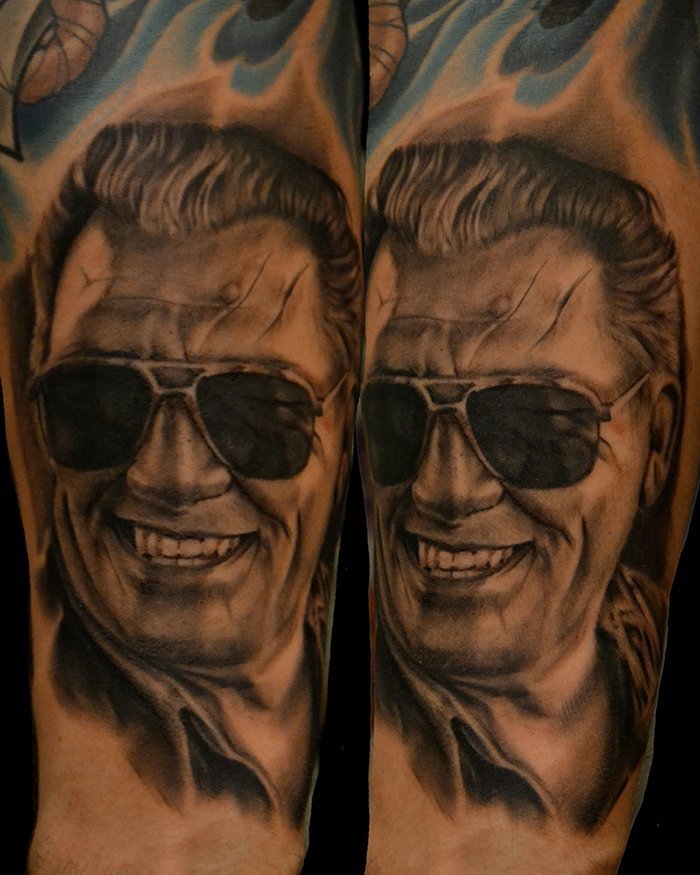 Understanding Portrait Tattoo Pricing
The cost of portrait tattoos near Bellevue can vary based on factors such as the artist's experience, the design's size and complexity, and the shop's location. We aim to provide competitive pricing while upholding the highest quality standards. Additional expenses, such as aftercare products, may also apply. Our staff will discuss pricing with you during the consultation phase to ensure transparency and satisfaction.
Collaborating With Our Tattoo Artist
The process of getting a portrait tattoo at Katana Tattoo begins with a deeply significant image or idea for the person who wants to be inked. Our tattoo artists are dedicated to helping clients materialize their vision, understanding the significance of these lifelong artistic expressions. From the instant you step into our tattoo shop, our team is on hand to provide invaluable knowledge and direction, ensuring a remarkable tattoo experience.
Whether you prefer black and white or a piece with an abundance of color, our tattoo artist will ask about the specific portrait tattoo you have in mind at your appointment. We'll incorporate your ideas, reference materials, and the portrait's subject to develop a unique design that authentically represents you. Our tattoo artists are proficient in needle techniques, ensuring even the most elaborate and intricate designs become a reality.
Choosing the Perfect Placement for Your Portrait Tattoo
Deciding on the right placement for your portrait tattoo is of paramount importance. Our seasoned artists at Katana Tattoo will assist you in considering factors such as visibility, size, and pain tolerance when selecting the perfect location. Popular placement options for portrait tattoos include arms, legs, chest, back, and shoulders. We'll collaborate with you to identify the ideal spot that complements both the design and your physique.
Caring for Your Portrait Tattoo
Proper care is crucial to ensuring the longevity and vibrancy of your portrait tattoo. Our artists will furnish you with detailed instructions on immediate aftercare, such as moisturizing and keeping your new tattoo clean. We'll also address long-term care, including safeguarding your tattoo from the sun and other harmful elements. With attentive care and occasional touch-ups, your portrait tattoo will remain a striking work of body art for years to come.
Selecting a Professional for Your Portrait Tattoo
Portrait tattoos necessitate a keen eye for detail and exceptional technical abilities to accurately depict a person or image. As a result, it is crucial to select an artist with a specialization in this art form. The artists at Katana Tattoo possess the talent needed to produce exquisite portrait tattoos, ensuring a lasting piece that matches your expectations. Several motivations drive individuals to choose a specialist for their portrait tattoos. Some of these include the following:
Technical expertise: The deep comprehension of shading, line work, and color blending needed for portrait tattoos is a skill that our artists have mastered, ensuring remarkable results for all clients.
Experience: An artist focused on portrait tattoos is likely to have completed many similar projects, enhancing their skills and gaining significant experience. This expertise leads to higher quality tattoos and a more enjoyable experience for the client.
Personalized attention: Choosing a specialist guarantees you receive dedicated attention. Our tattoo artists invest the time to understand your vision, taste, and personal history, making sure your portrait tattoo genuinely represents you.
Unrivaled Customer Service and Professional Portrait Tattoos
At Katana Tattoo near Bellevue, Wisconsin, we pride ourselves on our expertise in portrait tattoos and our commitment to delivering exceptional customer experiences. From the rich history of portrait tattoos to aftercare and everything in between, we strive to be your go-to source for all things related to portrait tattoos. Whether you're a tattoo enthusiast or contemplating your first piece of ink, our talented artists and friendly staff are here to help you bring your vision to life.
Are you prepared to embark on your portrait tattoo journey? Give us a call or drop by our tattoo shop today to schedule a consultation with one of our skilled artists. Together, we'll create a one-of-a-kind piece of art that celebrates your unique story, passion, and personality. We look forward to welcoming you to the Katana Tattoo family in Green Bay, WI, and becoming your trusted source for portrait tattoos.
About Bellevue, Wisconsin
Nestled in the heart of Brown County, Bellevue, Wisconsin, is a charming community known for its picturesque landscapes and welcoming atmosphere. As a rapidly growing village, Bellevue offers a perfect blend of small-town charm and modern conveniences, making it an ideal destination for families, young professionals, and retirees. With a rich cultural heritage and a strong sense of community, Bellevue has something for everyone to enjoy.
The village of Bellevue boasts a variety of local attractions and recreational activities that cater to all ages and interests. Nature enthusiasts can explore the beautiful Josten Park, which features a nature trail, playground, and picnic areas for outdoor gatherings with family and friends. The area's rich cultural scene is reflected in various events and festivals held throughout the year, celebrating the community's diverse heritage and traditions. In addition, Bellevue offers an array of dining options and shopping experiences, ensuring a vibrant and fulfilling lifestyle for its residents and visitors.
Areas We Offer Portrait Tattoo Services: 
Directions from Bellevue to Katana Tattoo

Bellevue, WI Zip Codes
54115, 54302, 54311