Katana Tattoo is the go-to place for portrait tattoos near Ashwaubenon, Wisconsin! Our passion is deeply rooted in body modification and crafting beautiful, permanent pieces of art that narrate your personal story. As specialists in portrait tattoos, we're eager to share information on the art of tattooing, its history, and our approach to this fascinating craft. Join us as we delve into the diverse world of portrait tattoos, discussing topics such as types of portrait tattoos, pricing, designs, placement, and care and maintenance.
History of Tattoos
At Katana Tattoo, we take pride in being an integral part of the vibrant tattooing history near Ashwaubenon. The art of tattooing has ancient origins in native cultures, but portrait tattoos have seen a surge in popularity more recently. Modern tattoo artists are continuously pushing the boundaries of their craft. From the original tattoos of indigenous cultures to state-of-the-art portrait creations by our artists, the evolution of portrait tattoos is truly awe-inspiring.
Various Types of Portrait Tattoos
As a tattoo shop that specializes in portrait tattoos, we cater to a variety of styles for our clients. Some individuals choose realistic portraits, capturing the essence of a loved one or a cherished celebrity. Others lean towards a stylized or abstract approach, blending their distinctive vision with the artist's creative flair. Regardless of the style, our skilled artists at Katana Tattoo will collaborate with you to design the ideal portrait piece.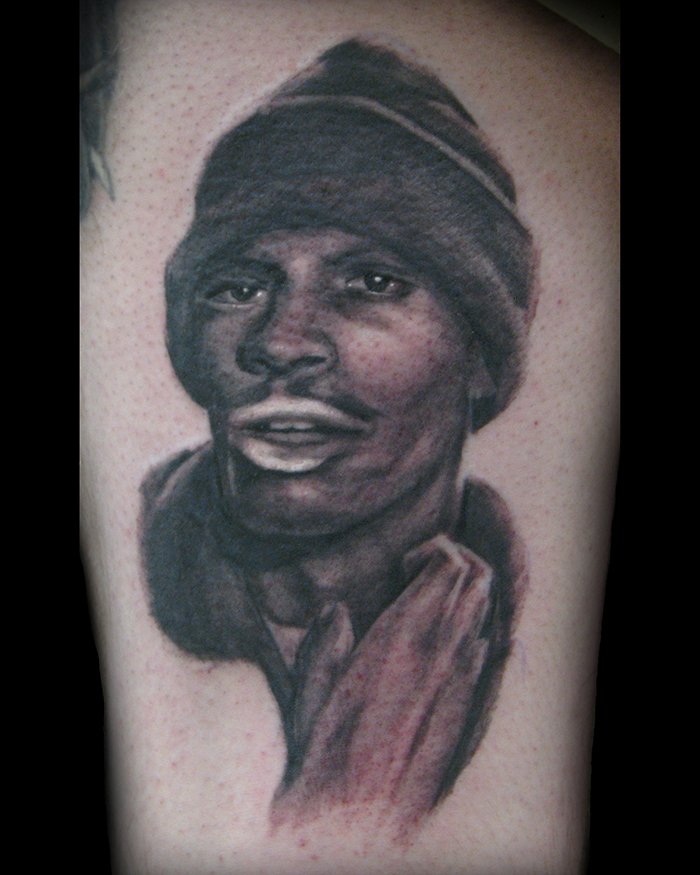 Pricing of Portrait Tattoos
The cost of portrait tattoos near the Ashwaubenon area varies depending on factors such as the design's size and complexity, the artist's experience, and the shop's location. At Katana Tattoo, we aim to offer competitive pricing while upholding the highest quality work. Additional expenses, such as consultation fees and aftercare products, may be applicable. Our friendly staff will discuss pricing with you during the consultation process.
Working With Our Tattoo Artist
At Katana Tattoo, every portrait tattoo commences with a meaningful concept or image for the individual seeking to be tattooed. Our tattoo artists recognize the importance of these enduring artworks and devote themselves to assisting clients in realizing their ideas. As soon as you enter our studio, our staff is prepared to offer insightful advice and support to make your tattoo journey unforgettable.
During your consultation, our tattoo artist will discuss the desired portrait tattoo style, and whether you desire a black and white portrait tattoo or a tattoo filled with vibrant colors. We'll take into account your suggestions, reference materials, and the portrait subject to craft a tailor-made design that genuinely reflects your personality. Each tattoo artist at Katana Tattoo possesses exceptional skills with a needle, enabling them to bring even the most complex and intricate designs to life.
Placement of Your Portrait Tattoo
Selecting the right placement for your portrait tattoo is of utmost importance. Our experienced artists at Katana Tattoo will assist you in considering factors such as visibility, size, and pain tolerance when choosing the perfect location. Popular placement options include the chest, back, arms, legs, and shoulders.
Care and Maintenance of Your Portrait Tattoo
It is crucial to maintain and protect your portrait tattoo to guarantee its vibrancy and longevity. The professional artists at Katana Tattoo will provide in-depth guidance on immediate post-tattoo care, including cleaning and hydration techniques, in addition to recommendations on shielding your tattoo from sunlight and various damaging factors. By following proper maintenance and seeking periodic touch-ups, your portrait tattoo will be a long-lasting remarkable work of body art.
The Importance of Selecting an Expert for Your Portrait Tattoo
When it comes to portrait tattoos, the intricacy and realism involved necessitate choosing an artist with expertise in this specific field. Katana Tattoo's artists possess the necessary skills to create impressive portrait tattoos, guaranteeing a permanent artwork that reflects your vision. There are several factors that encourage individuals to select a specialist for their portrait tattoos:
Technical expertise: The proficiency in shading, line work, and color blending required for portrait tattoos is something our artists at Katana Tattoo excel at, resulting in outstanding outcomes for every client.
Experience: A tattoo artist with a focus on portrait tattoos is likely to have a wealth of similar projects under their belt, perfecting their skills and accumulating valuable experience. This equates to superior tattoo quality and a more seamless client interaction.
Personalized attention: Collaborating with a specialist ensures that you receive personalized attention. Our artists at Katana Tattoo take the time to comprehend your vision, preferences, and individual story, guaranteeing a portrait tattoo that mirrors your unique personality.
Expert Portrait Tattooing and Unmatched Customer Service
At Katana Tattoo near Ashwaubenon, Wisconsin, we take pride in our expertise in portrait tattoos and our commitment to delivering exceptional customer experiences. From the rich history of portrait tattoos to aftercare and everything in between, we strive to be your go-to source for all things related to portrait tattoos. Whether you're a tattoo enthusiast or contemplating your first piece of ink, our talented artists and welcoming staff are here to help you bring your vision to life. Give us a phone call or stop by our shop in Green Bay today to embark on your portrait tattoo journey.
About Ashwaubenon, WI
Ashwaubenon, a charming village in Brown County, Wisconsin, offers residents and visitors a unique blend of history, culture, and local attractions. Nestled on the outskirts of Green Bay, this picturesque village boasts a close-knit community that embraces its rich cultural heritage while providing plenty of modern amenities.
The vibrant culture of Ashwaubenon is evident in the variety of events and attractions that the village offers. The Resch Center regularly hosts sporting events, concerts, and other entertainment events. Outdoor lovers can explore Ashwaubomay Park, a beautiful recreation area featuring a lake, walking trails, and sports facilities. In addition to these attractions, Ashwaubenon is home to numerous shops, restaurants, and other businesses that contribute to the village's welcoming atmosphere.
Ashwaubenon, Wisconsin, is a delightful village that combines a rich history and culture with an array of local attractions. Whether you're a resident or just passing through, you're sure to appreciate the warm, friendly community and the diverse range of experiences Ashwaubenon has to offer.
Areas We Offer Portrait Tattoo Services: 
Ashwaubenon, WI Google Map
Directions from Ashwaubenon to Katana Tattoo

Ashwaubenon, WI Zip Codes
54115, 54304, 54313