Prioritizing both art and client experience, Katana Tattoo delivers black and grey tattoos that stand out in Ashwaubenon, WI. Our artists demonstrate proficiency in crafting both small, detailed work and large, elaborate pieces, ensuring every custom design genuinely mirrors your personal style and sentiment. From conceiving the initial idea to materializing it onto the skin, our staff is committed to ensuring a premium-quality tattooing process, creating each piece with meticulous attention to detail, whether adhering to classic styles or exploring contemporary designs.
Discovering the Elegant Beauty of Black and Grey Tattoos
Black and grey tattoos have intricately woven their way through the tattooing world since the Victorian era, epitomizing a form of body art that balances classic and modern aesthetics. Initially utilized as a method for prisoners to express group loyalty, this style, from the 1970s up to now, has unfolded into a subtly expressive medium cherished by tattoo artists internationally. Acclaimed for their unassuming beauty and visual impact, black and grey tattoos perpetually furnish an enduring and alluring art form, transcribing diverse stories onto the skin in a notably captivating way.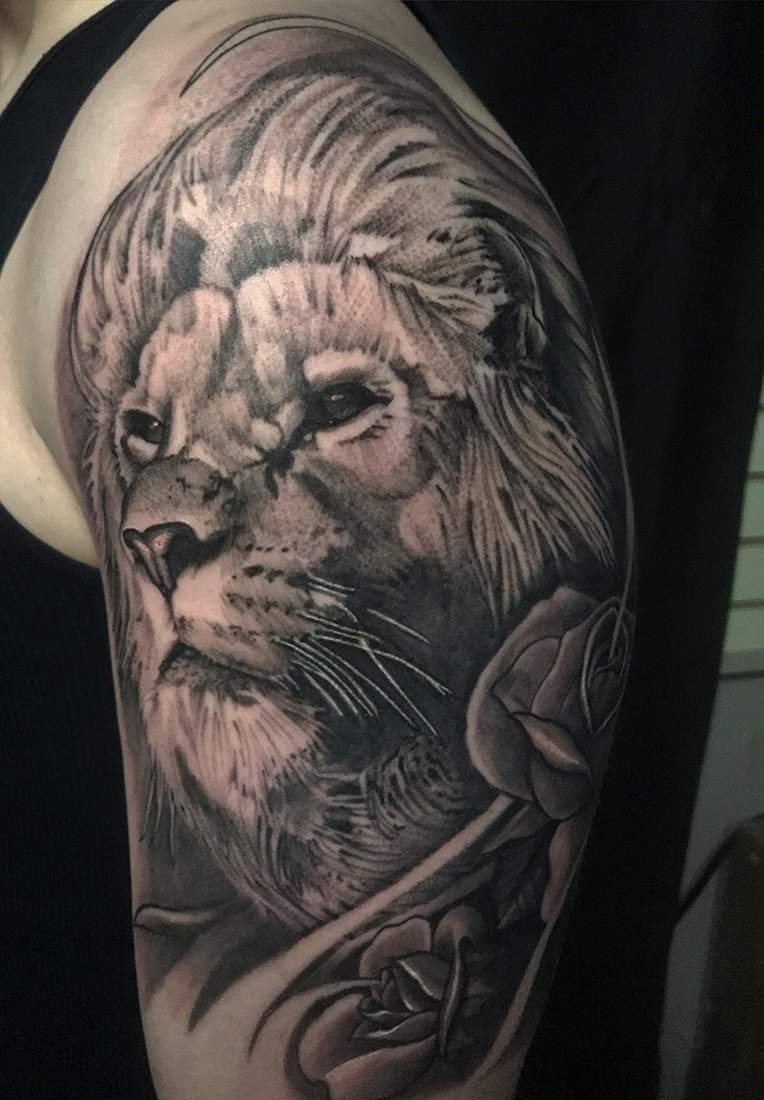 Unveiling the Artistry of a Black and Grey Tattoo Artist
In the world of body art, and more precisely black and grey tattooing, a notable style materializes, necessitating a tattoo artist's meticulous expertise and profound experience. It becomes the artist's duty to produce eye-catching pieces upon the skin, maneuvering exclusively with black and grey to manifest depth, design, and dimension, where precision is crucial. Tattoo aficionados in Ashwaubenon are drawn to this monochrome style, as artists infuse life into their ideas, converting them into perpetual tattoo designs. The progression from a mere idea to a splendid tattoo piece involves a collaborative effort between the client and artist, a mutually beneficial relationship that prospers within the specialized environment of a dedicated tattoo shop, wherein complex designs permanently integrate into the client's style and expressive form.
The Artistic Range of Black and Grey Ink
Recognized as one of the most distinct styles within the tattooing field, black and grey tattooing offers not merely one style but encompasses a spectrum, which includes realism, portrait tattoos, and also Japanese Irezumi among others. While a black and grey tattoo artist may utilize varied methods, common practice employs a single needle and black ink, deriving a myriad of grey shades via a "wash" process. The tattoo artist, through this method, is capable of producing several grey hues, facilitating a variety of texture and depth, and crafting spectacular 3-D and intricate art. Similar to a black and white photograph, the shifts from dark to light shades forge a dimensionality, which a black and grey tattoo aspires to replicate.
Opting for black and grey tattoos frequently results in a quicker completion time compared to pieces that utilize a full spectrum of color, especially when considering artist hourly rates. However, this should not be misconstrued as an indication of inferior quality or hasty work; rather, it signifies an expedited accomplishment when compared with a similarly detailed color piece.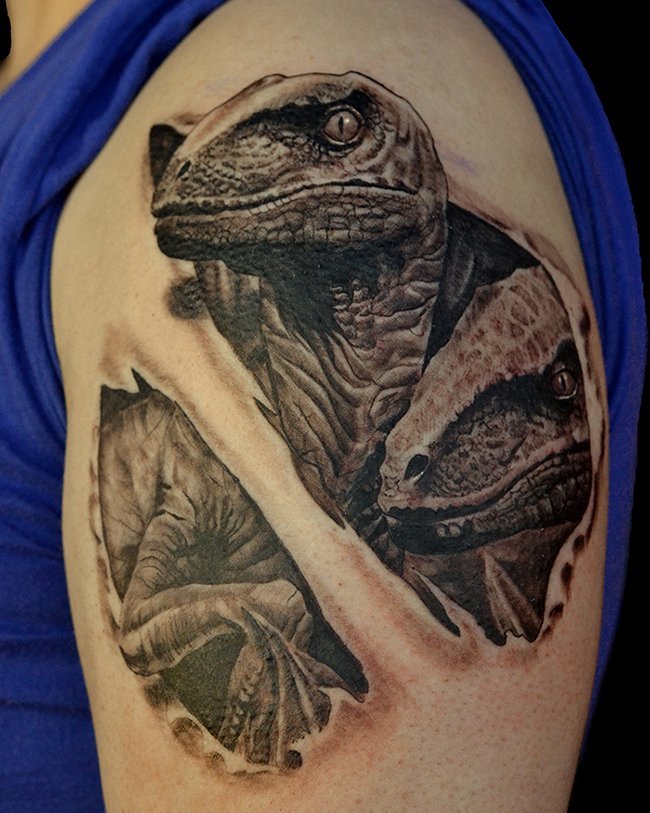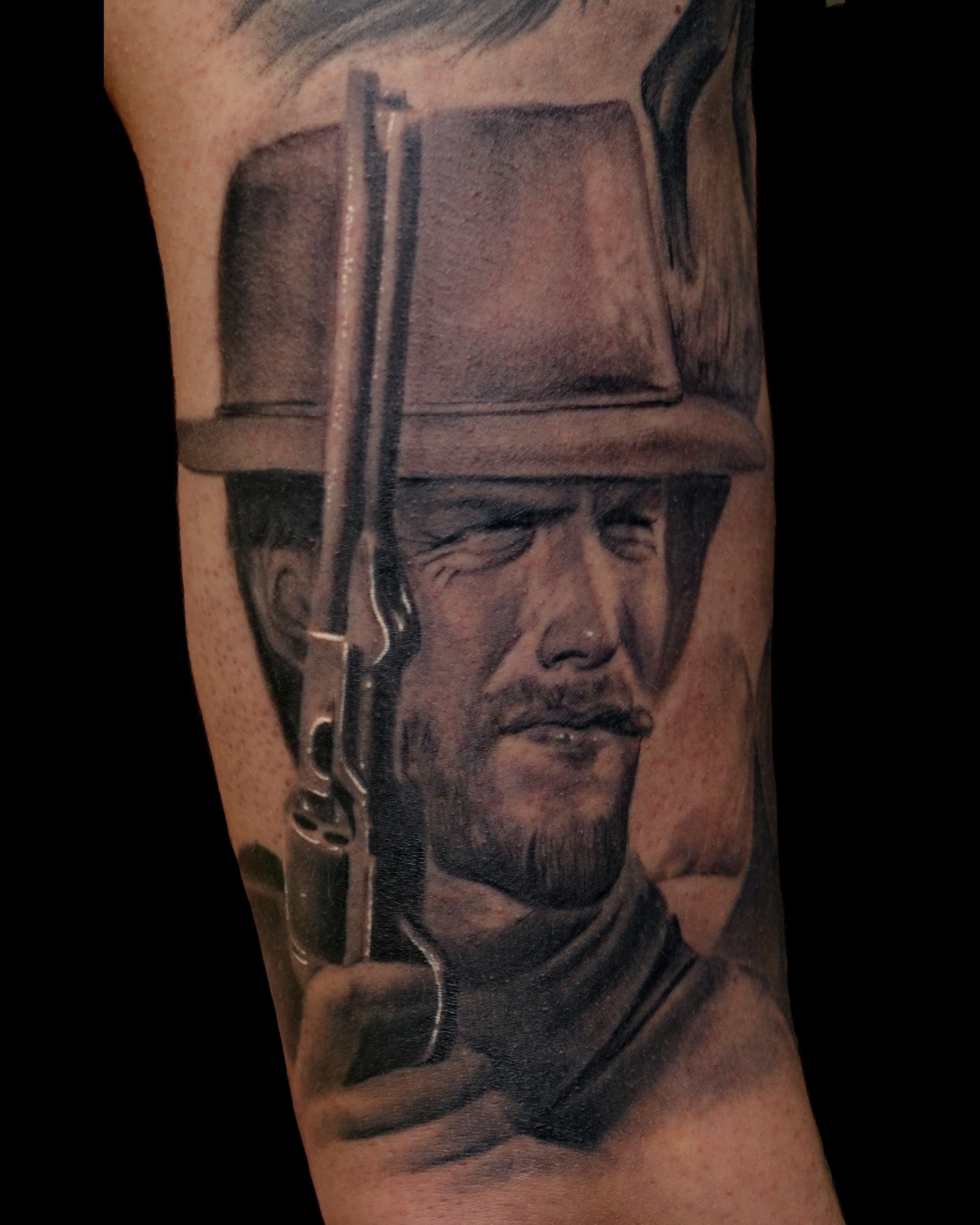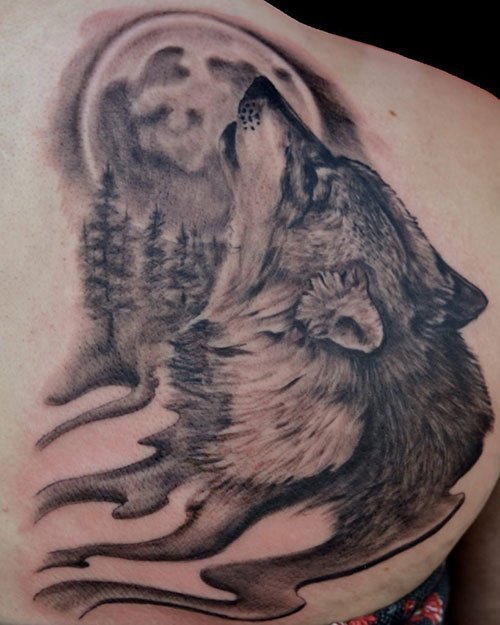 The Process of Creating Black and Grey Tattoos in Ashwaubenon
Beginning with a consultation to grasp the client's vision and ideas, our tattoo artists engage in a meticulous process of forming black and grey tattoos. The artist initiates the creation of a custom design after an appointment is scheduled.
Employing various shades of black and grey, the tattooing process creates depth and dimension by diluting black ink into diverse shades of grey. The needle embeds this ink into the skin, establishing a permanent design, while our artists ensure high-quality tattoos with their skill in this area, providing defined lines and intricate shading.
Placement of Black and Grey Tattoos
The placement of your black and grey tattoos is crucial in shaping their design, aesthetic appeal, and the individual message they convey. In our tattoo studio, we've crafted pieces on multiple body locations, with several areas noted below being particularly favored for such body art.
Back Tattoos
Presenting the largest canvas on the body, the back enables the creation of remarkably detailed tattoos, ranging from substantial full-back pieces to smaller, focal designs, particularly suited for black and grey tattoos. This area facilitates extensive detail, broad shading, and larger designs than other body parts, culminating in pieces that beautifully transform the back into a spectacular exhibition of tattoo artistry.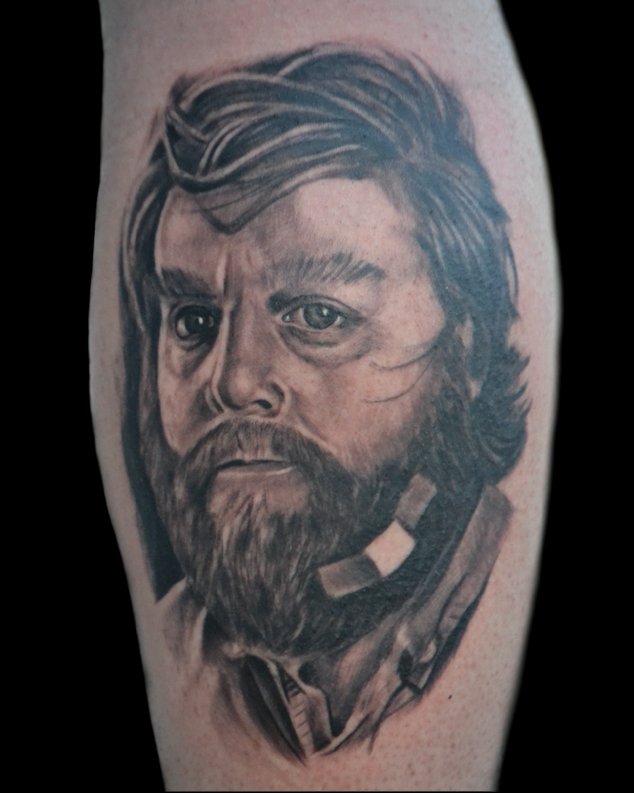 Arm Tattoos
In Ashwaubenon, WI, arm tattoos, from small, subtle pieces to large, expansive sleeves, hold a special place among tattoo enthusiasts. Black and grey tattoos, featuring anything from complex tribal designs to realistic portraits, find a captivating canvas on the arm, displaying splendid shades of black and grey.
Chest Tattoos
The chest area, ideal for larger, detailed pieces, can accommodate a spectrum of designs from symbolic heart tattoos to complex scenes, especially striking in black and grey. The intricate shading and detailed line work displayed, whether concealed or revealed, make every tattoo a deeply personal piece of body art.
Guiding you through the selection of the perfect spot for your black and grey tattoos, Katana Tattoo believes that your chosen location, whether on the arm, chest, or back, should resonate with your individual style and the message your tattoo intends to convey.
Exploring the Art of Black and Grey Portrait Tattoos
Our artists at Katana Tattoo excel in crafting black and grey portrait tattoos, producing pieces with a striking degree of realism, serving as a profound way to embody memories or tributes within a piece of art. Committed to converting your idea into an exquisite piece of black and grey body art, we are here to animate your thoughts, embedding life into every single tattoo, whether it encompasses portraits of people or pets.
Begin Your Artistic Journey at Katana Tattoo
Katana Tattoo serves as a prominent place for anyone in Ashwaubenon, Wisconsin, venturing into the intricate world of black and grey tattoos. Our team ensures that this timeless style of body art is accessible to all, translating your unique ideas into personalized art pieces while navigating through the deep traditions and innovative scope of this specific tattooing style.
Clients are invited to utilize our services at Katana Tattoo, with the assurance that every question about the detailed process will be answered. Expert consultations are provided, and your appointments are crafted to align with your expectations, in a place where your creative vision is respected, explored, and vibrantly realized on your skin. Each piece meticulously reflects your individuality and the profound artistry of black and grey tattoos, allowing us to embark on this expressive journey hand in hand.
Frequently Asked Questions
Q: What is the allure of black and grey tattoos?
A: Black and grey tattoos offer a timeless and classic look, with intricate shading and detail that can be tailored to both small and expansive designs. We strive to make every piece, whether inked in color or grayscale, a testament to our dedication to body art and design.
Q: Does your shop in Green Bay, WI, specialize in creating distinct black and grey tattoos?
A: We do have a focus on crafting stunning black and grey tattoos, utilizing the skilled hands of our artists to bring to life a myriad of designs, from the simple and subtle to the large and complex, ensuring every piece is a work of art on your skin.
Q: Can Katana Tattoo provide assistance with designing custom black and grey tattoos?
A: Certainly! Your body art should be uniquely yours, and we are here to assist with molding your ideas into a custom design that mirrors your vision and becomes a permanent, beautiful addition to your skin.
Q: How do I ensure my black and grey tattoos remain vibrant over time?
A: To maintain the visual appeal of your black and grey tattoos, it's vital to adhere to aftercare instructions, protect them from prolonged sun exposure, and keep the skin well-moisturized, ensuring the ink remains vibrant and the design sharp.
Q: Are there any particular considerations when choosing a design for black and grey tattoos?
A: When opting for black and grey tattoos, consider factors like shading, contrast, and detail, as these will impact the visual depth and aesthetic of the finished piece, ensuring your body art is striking and coherent.
Q: How does Katana Tattoo maintain a safe and clean environment for tattooing?
A: Prioritizing safety and hygiene, we adhere to stringent protocols, ensuring that needles, ink, and workspaces are sterile and safe, providing a secure environment where you can comfortably get tattooed.
Q: Is it possible to book a consultation for black and grey tattoos at your tattoo shop?
A: Absolutely! Booking a consultation allows for in-depth discussion regarding your design aspirations, artist preferences, and scheduling, ensuring your tattooing journey is well-planned and personalized.
Q: Are there artists who specialize in specific styles of black and grey tattoos?
A: Typically, tattoo shops like ours may have artists specializing in various styles, ensuring you can collaborate with someone who understands your vision and can create a piece that resonates with your aesthetic preferences.
Q: How do I select the right tattoo artist for my black and grey tattoos?
A: Choosing an artist might involve reviewing portfolios, understanding their expertise, and discussing your design ideas with them to ensure a mutual understanding and that their style aligns with your vision for your black and grey tattoo.
About Ashwaubenon, WI
Ashwaubenon, Wisconsin, is a village that blends leisure, commerce, and natural beauty, crafting an engaging environment for both residents and visitors. Located in Brown County, adjacent to the city of Green Bay, it's known for hosting the Resch Center, which is a hub for various events, from sports competitions to concerts and shows. Ashwaubenon also features the Bay Park Square Mall, providing a variety of shopping and dining options to explore. The village isn't just a place for commerce; it's also an inviting locale for outdoor enthusiasts. Ashwaubomay Lake, for instance, offers a summer escape with its beach and opportunities for water activities.
With its historic structures and artifacts, the Ashwaubenon Historical Society Museum offers a window into the village's past, helping to preserve and share the rich history of the area. For those who enjoy a serene stroll, the Fox River Trail provides a peaceful pathway to explore the local landscape, suitable for walking, running, and biking. Numerous parks dotted around the village offer recreational spaces for various activities, from sports to leisurely picnics. In addition to its own offerings, Ashwaubenon's close proximity to Green Bay means that a wider array of cultural, entertainment, and recreational opportunities are just a short drive away, making the village a conveniently located and activity-rich place to live or visit.
Ashwaubenon, WI Zip Codes
54115, 54304, 54313
Areas We Offer Black and Grey Tattoos:
Ashwaubenon, WI Google Map
Directions to Katana Tattoo