Exceptional black and grey tattoos, rooted in both classical and contemporary styles, are expertly delivered by Katana Tattoo, where the art and client experience take precedence in our service to those in Allouez, WI. Every piece is inked with precision and adherence to custom design, offering a genuine embodiment of your own style and narrative. Ensuring a top-tier tattooing process from the initial idea to its actualization on the skin, our artists manifest their expertise, making our tattoo shop a prime destination for distinguished body art in the area.
The Distinct Charm of Black and Grey Tattoos
Black and grey tattoos, a sophisticated form of body art, have firmly established themselves within the tattooing world since first appearing in the early Victorian era. Initially finding a place within prison cultures as a way to denote group affiliation, this style has, from the 1970s up until the present day, transformed into a subtle yet impactful means of personal and shared expression, widely adopted by tattoo artists worldwide. Celebrated for their charm and striking visual resonance, black and grey tattoos persistently provide a perpetual and enticing art form, conveying stories on the skin in a uniquely compelling way.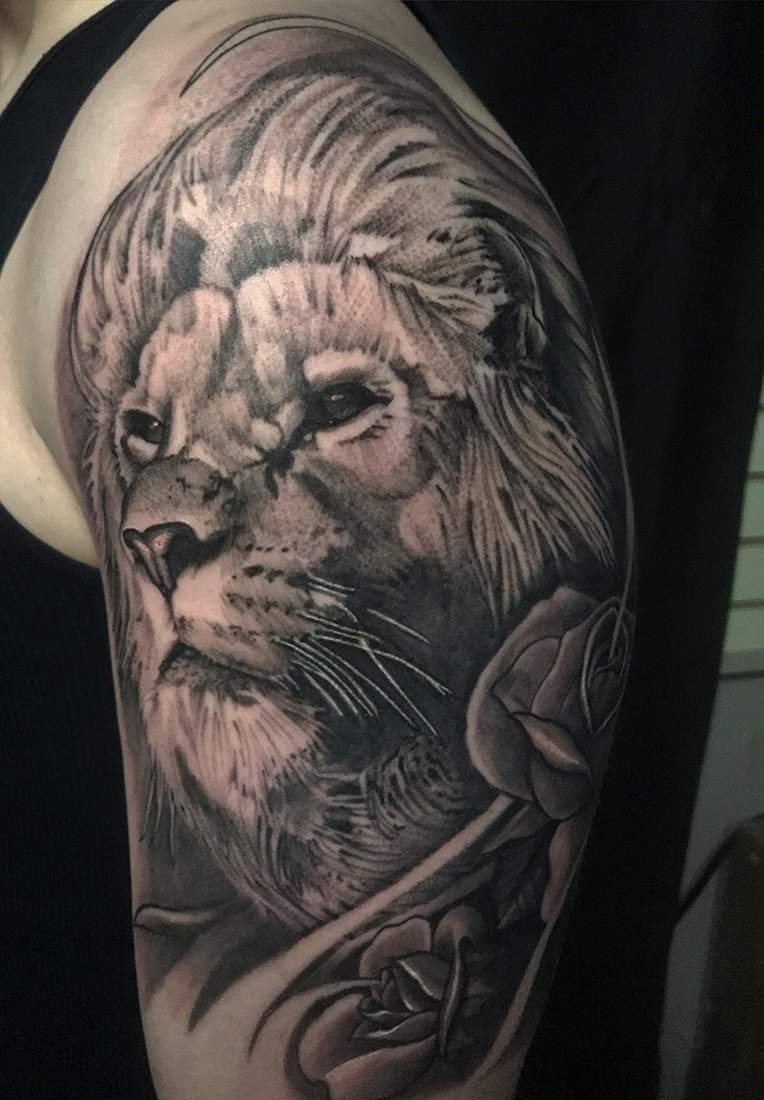 Artists Specializing in Black and Grey Tattoos
The specialized world of black and grey tattooing in body art unveils a distinct style, demanding the tattoo artist's scrupulous precision and rich experience. Tasked with generating captivating pieces on the skin by manipulating merely black and grey ink to reveal depth and design, the artist's accuracy becomes vital. In Allouez, fans of tattoos gravitate towards this monochrome style, where artists animate ideas, morphing them into timeless tattoo designs. Transitioning from an idea to a magnificent tattoo piece entails cooperative work between the artist and client, a mutual relationship that blossoms within the confines of a devoted tattoo shop, allowing intricate designs to seamlessly become an everlasting part of the client's style and self-expression.
Diverse Artistic Uses of Black and Grey Ink
Black and grey tattoos, notably one of the most distinguishable styles in tattooing, encompass not just one defined style but span various facets, such as realism, portraits, and Japanese Irezumi, to list a few. A black and grey tattoo artist might adopt various methods of execution, often using a solitary needle and black ink, attaining numerous grey shades through a technique known as a "wash." This procedure enables the tattoo artist to craft diverse grey tones that introduce varying degrees of texture and depth, culminating in stunning 3-D and detailed art pieces. The transition between dark and light shades creates depth and dimension, similar to the aesthetic of a black and white photograph, which the black and grey tattoo seeks to emulate.
Black and grey tattoos often have the advantage of being completed more swiftly than their full-color counterparts, offering a more budget-friendly option when an artist charges by the hour. This doesn't imply a compromise in quality or that they are rushed – it merely denotes a quicker culmination compared to a similar piece that incorporates various color levels and detail.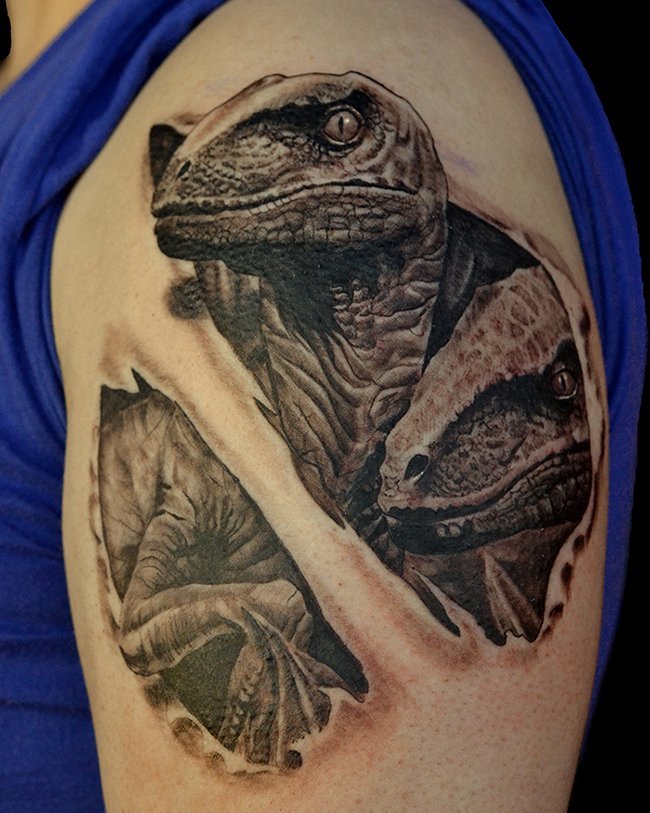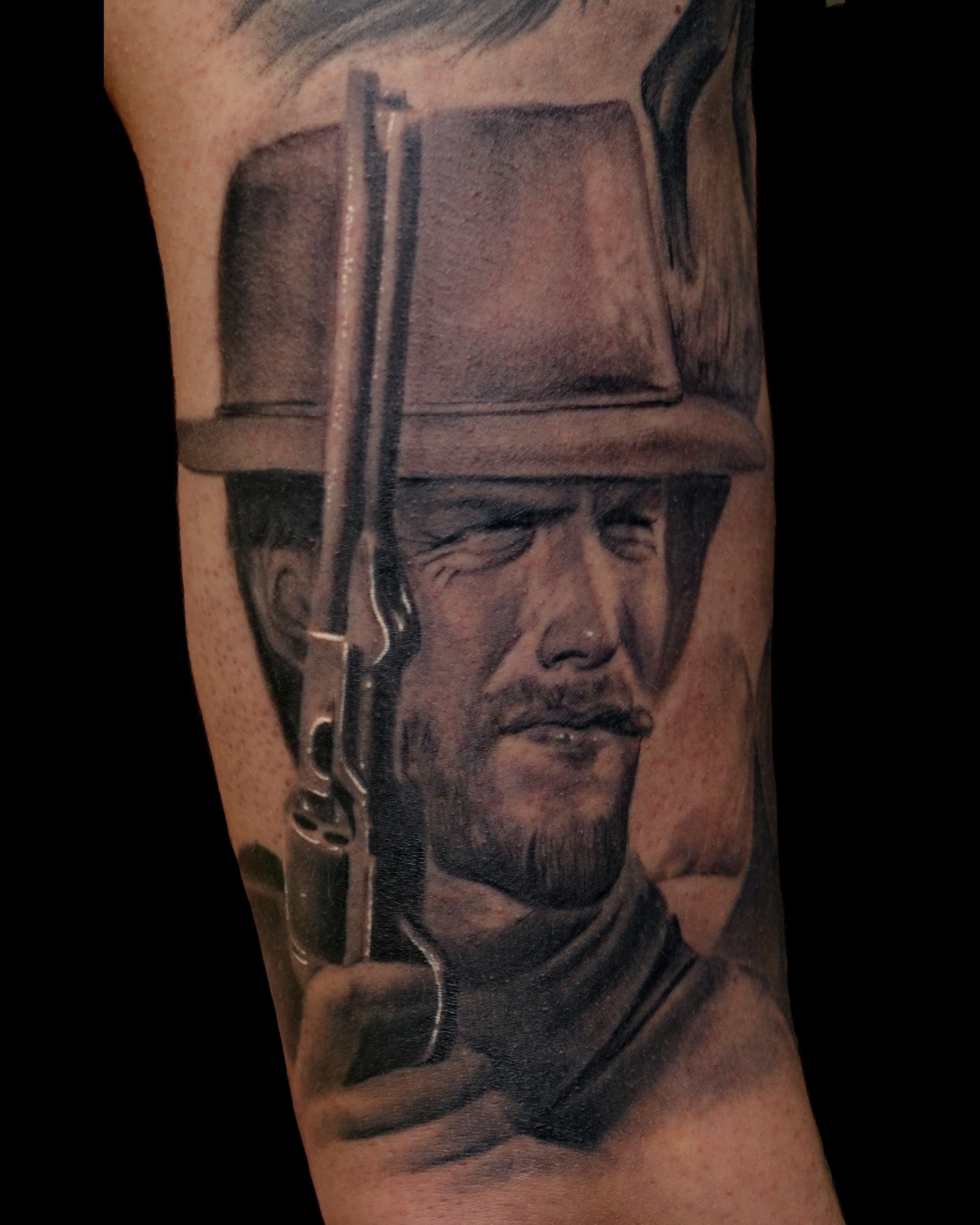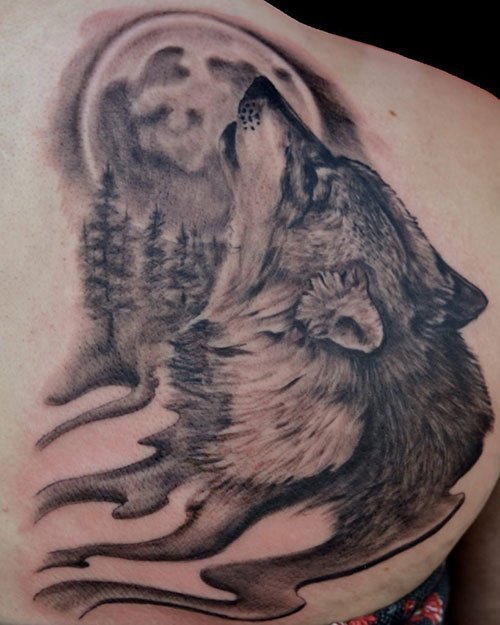 The Process Behind Black and Grey Tattoos in Allouez
The process of crafting black and grey tattoos involves our tattoo artists starting with a consultation to comprehend the client's visions, ideas, and anticipations. Following this appointment, the artist commences creating a custom design.
Our artists utilize their expertise in this area to guarantee a high-quality tattoo that boasts sharp, distinct lines and meticulous shading. The tattooing process encompasses the use of a needle to introduce black and grey ink, manipulated by diluting black to achieve diverse grey shades,
Ideal Locations for Black and Grey Tattoos
Choosing the right location for your black and grey tattoo can greatly influence its visual impact. We have tattooed numerous locations on the body in our tattoo studio. Some popular locations for these stunning pieces of body art are listed below.
Tattoos on the Chest
Black and grey tattoos on the chest provide a wide, flat canvas perfect for larger, detailed pieces. The capacity to accommodate expansive designs, from symbolic heart imagery to elaborate scenes, makes this area striking. With meticulous shading and detailed line work, whether hidden or openly displayed, each piece becomes a personal and poignant element of body art.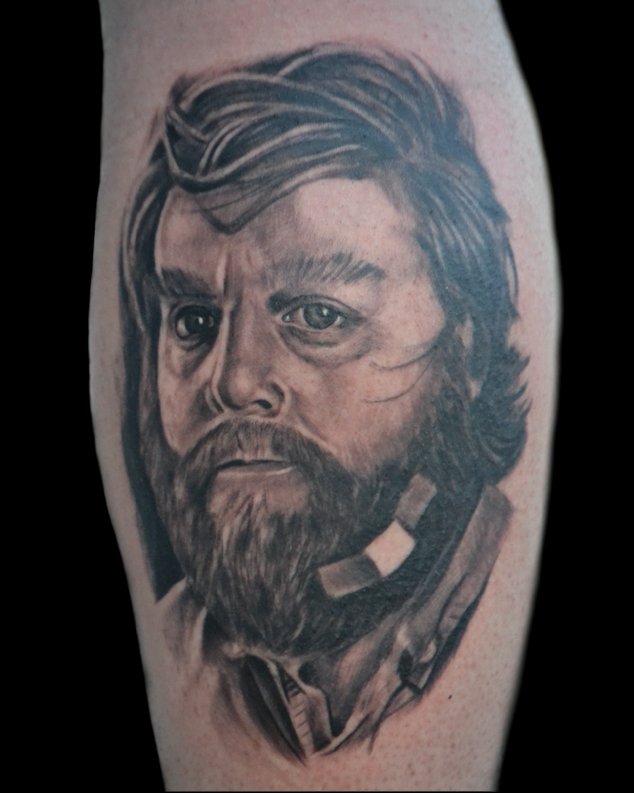 Tattoos on the Back
Offering a broad canvas for tattoos, the back allows for the creation of both expansive full-back pieces and smaller, centered designs in black and grey tattoos. With the potential for intense detail, extensive shading, and larger designs that may not find space on other body areas, the pieces crafted here elegantly transform the back into a magnificent display of tattoo artistry.
Tattoos on the Arm
Tattoo enthusiasts in Allouez, WI, often lean towards arm tattoos, whether choosing a small, discreet piece or embarking on the creation of a large sleeve. Black and grey tattoos, from detailed tribal designs to lifelike portraits, leverage the arm as a vibrant canvas, revealing impressive shades of black and grey.
Katana Tattoo guides you in determining the ideal spot for your black and grey tattoos, considering your personal style and the unique advantages that various locations from the arm, chest, and back present for showcasing a tattoo.
The Allure of Black and Grey Portrait Tattoos
At Katana Tattoo, our artists masterfully create black and grey portrait tattoos, capturing extraordinary realism in their pieces as the perfect way to celebrate or remember a person or event through a unique piece of art.
Transforming your idea into a striking piece of black and grey body art is our specialty, and we're committed to bringing each tattoo to life, one unique vision at a time, from loved ones to celebrities or even pets.
Discover Your Creative Side with Katana Tattoo
Katana Tattoo emerges as a distinguished place for anyone in Allouez, Wisconsin, seeking black and grey tattoos, combining traditional and contemporary style in this expressive world of body art. Our tattoo shop fosters an environment where individuals' ideas are translated into magnificent, tailored creations, always with a nod to the rich traditions and cutting-edge potential inherent in this specific style of tattooing.
We welcome clients to experience our services, ensuring comprehensive answers to all your questions about the tattooing process. We offer consultations and tailor your appointments to meet expectations in a place where your vision is not only respected but also explored and vividly brought to life on your skin. Each detailed piece reflects your uniqueness through the deep artistry of black and grey tattoos as we embark on this expressive journey together.
Frequently Asked Questions
Q: Are custom black and grey tattoos available at your shop in Green Bay, WI?
A: Yes, our skilled tattoo artists in Green Bay, WI, specialize in creating custom tattoos, ensuring that your black and grey body art is as unique and personal as you desire.
Q: How can I decide on a design for black and grey tattoos?
A: We encourage you to explore various sources of inspiration and collaborate with our artist to conceptualize a design. Whether you want something small and subtle or large and detailed, we're here to help bring your ink vision to life.
Q: How does Katana Tattoo ensure that the inked design matches my expectations?
A: Our approach involves a thorough consultation and design review, ensuring that the final inked design on your body mirrors your vision. Your artist will work with you to refine every detail before the needle touches your skin.
Q: Is it possible to get both small and large black and grey tattoos at Katana Tattoo?
A: Absolutely! Whether you're looking to get a small, delicate piece or a large, detailed work of art, our artists are skilled at crafting black and grey tattoos of all sizes to suit your preferences.
Q: How does your shop ensure that the tattooing process is safe and hygienic?
A: We prioritize your safety and only use sterile needles and high-quality ink. Our staff rigorously adheres to all sanitary guidelines, ensuring a clean and safe environment for getting tattooed.
Q: Are there any specific care tips for maintaining the vibrancy of black and grey tattoos?
A: To maintain the longevity of your tattoos, protecting them from sun exposure, moisturizing your skin, and adhering to the aftercare instructions provided by your artist are crucial steps in preserving the intricacy of black and grey shades.
Q: How does the artist ensure that the shades in black and grey tattoos remain consistent?
A: Our artists utilize their expertise to mix and apply ink in a way that ensures consistency and depth in the shades of your black and grey tattoos, focusing on precision and the technical aspects of tattooing.
Q: Do you offer consultations for discussing potential black and grey tattoo designs?
A: Yes, we believe consultations are a vital part of the tattooing process. It's an opportunity to meet your artist, discuss your design and placement preferences, and establish a connection before getting inked.
About Allouez, WI
Allouez, Wisconsin, a village located in Brown County, is a locale infused with a rich history and a vibrant community spirit. Notably, the Heritage Hill State Historical Park is situated here, offering a glimpse into the past through its carefully preserved and reconstructed buildings from various periods in Wisconsin's history. Visitors can engage in interactive experiences that provide insightful peeks into different eras, from fur trading posts to vintage schoolhouses. The East River Trail provides a scenic route for hiking and biking, allowing individuals to immerse themselves in the picturesque natural surroundings while engaging in recreational activities.
Moreover, Allouez hosts a variety of events and gatherings that knit the community together, celebrating holidays, seasons, and various occasions that foster a strong sense of togetherness among residents. Local parks, such as Green Isle Park, offer additional recreational opportunities, including sports fields, play areas, and picnic spots, ensuring that families and friends have ample spaces to gather, play, and relax. Furthermore, Allouez's proximity to larger cities like Green Bay expands the horizon of cultural, entertainment, and dining experiences available to residents and visitors. In essence, Allouez stands as a delightful combination of historical depth, recreational diversity, and community warmth, offering a wholesome and inviting environment for all.
Allouez, WI Zip Code
54301
Areas We Offer Black and Grey Tattoos:
Directions to Katana Tattoo